Storm Chase Details
Chase Date:
March 18, 2012
Miles Logged:
486
States Chased:
OK, TX
Tornadoes Witnessed:
3
Largest Hail Encountered:
2"
Severe Risks:
SPC Outlooks
Chase Recap:
Leaving Norman
Jeff, Cory and myself left Norman around 11 am in a caravan with Eric Treece. Our initial target was Shamrock, Texas. Making very good time, we ended up in Shamrock around 1:30. Shamrock was full of storm chasers. After grabbing some DQ, we headed south of town to wait.
Storms Firing
The first storm really started showing up on satellite and radar just south of Childress. As we were about 50 miles north, we took off pretty quickly with a target of near Childress. The storm looked very anemic on radar, but looked reasonably healthy when we got a bit closer.
Storm slowly organizes
We parked just south of Childress and waited for the storm to get its act together. After an updraft split, the storm seemed to struggle to shed the left split. Eventually the storm was able to complete the split, so we took a creaky bridge across the Red River south of Hollis.
Updraft contention
As the main updraft crossed into Oklahoma, it was struggling to get its act together. More updrafts had gone up to the southwest of the main one. The storm continued to look trashy on radar. Even worse, the storm to the south was really starting to get its act together.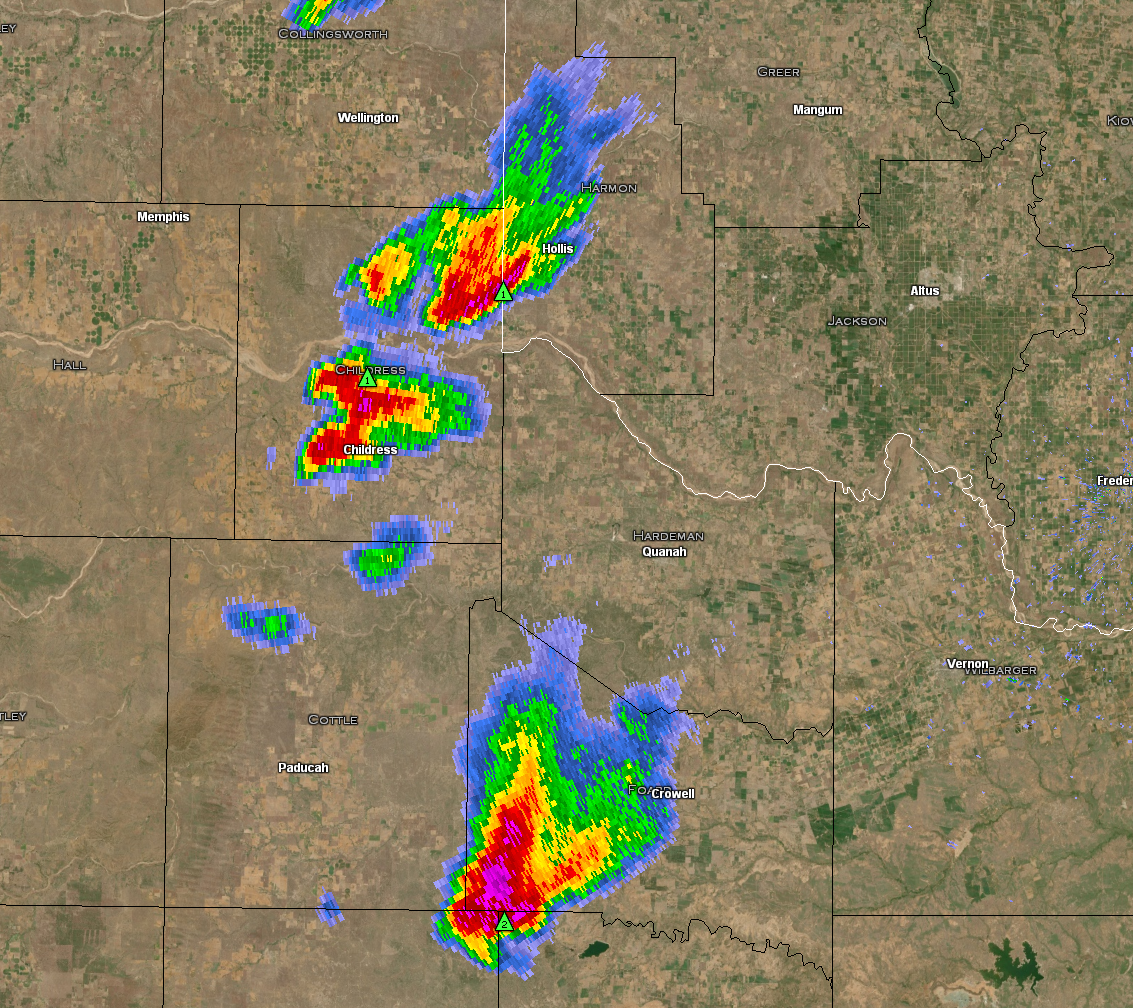 We continued north towards Hollis. The updrafts continued to congeal over the next 45 minutes, and eventually evolved into one strong updraft. North of Hollis, the wall cloud really started to get its act together. Rotation had picked up, and for a minute I thought we might see a tornado, but it was never able to fully organize.
As I moved north and east, and north of Gould, the storm really started wrapping up. I observed a long rope funnel from the wall cloud.
Supercell Structure
The road network near Hollis is pretty good, and I was able to stay ahead of the storm on the gridded roads. Radar presentation was continuing to improve and so was the storm visually. We were treated to a great view of stacked plates structure as well as an alligators mouth inflow feature.
Driving through Mangum and first Funnel
We continued through Mangum with stacked plates structure out our window to our left. After we got north of the river, we went west on a dirt road and immediately observed a funnel.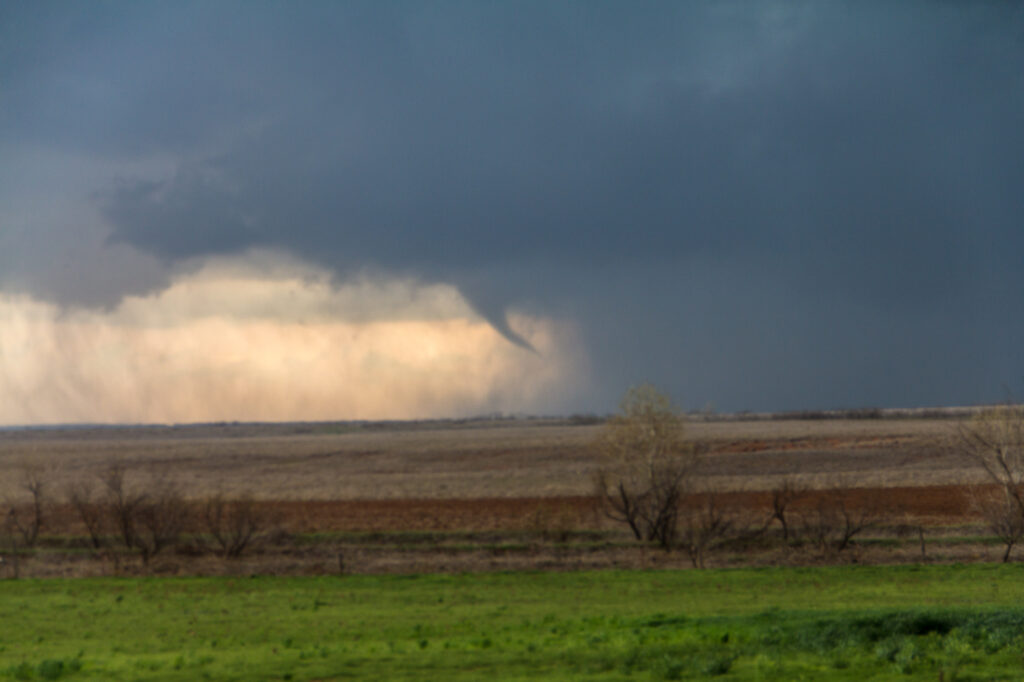 Willow Oklahoma Tornadoes
After going through Mangum, we observed our first tornado of the day – a brief snaky tornado next to the rain core. We stopped momentarily and got out to observe. A very close cloud-to-ground lightning strike got us all back into the vehicle fast.
The strategy was to stay north of the lowering as it was still west of 283. We observed 2 more tornadoes, one of them a brief slim cone and the other tornado a very nice elephant trunk and rope out.
We continued north and ended up in the rain. Due to lack of road options, the only option was going north into the core. As soon as we were able to, we started heading east. Unfortunately, I became temporarily stuck in mud. A switch over to 4×4 Low and we were back on our way.
Calling the Chase
I found some pavement on State Highway 6 and continued north. The storm had lost intensity and we were losing daylight fast. We called the chase and headed to Clinton.
Links