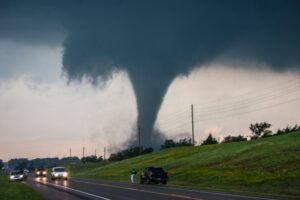 Bio
Growing up a Mid-Michigan native, storm chaser Ben Holcomb experienced severe weather in many forms. This sparked his interest in weather and tornadoes. At age 20, Ben took interest in Amateur Radio (Callsign WX8BEN) and the Lansing, MI Skywarn program. It wasn't until 2 years later in the fall of 2007 that Ben would begin actively chasing storms and tornadoes. His first chase was October 18, 2007 where he witnessed a funnel cloud near the town of Fulton in Northern Indiana.
In the summer of 2010, storm chaser Ben Holcomb relocated from Lansing, MI to Norman, OK. This was primarily to be closer to the "action" of tornado alley. His first tornado came on May 2nd, 2008 near Memphis in the town of Turrell, Arkansas. To date, Ben has seen over 175 tornadoes and driven over 100,000 miles in pursuit of observing tornadoes.
His scariest moment chasing came in South Dakota in 2010 where the road Ben and his friends were chasing on ended. They had to bail into a farmers field to escape a tornado coming down the road. The cops and farmer were unhappy, but everyone survived. May 24, 2011 tornado outbreak in Oklahoma is Ben's favorite chase of all time.
Ben has worked with numerous media outlets from local TV stations to national news networks and had his storm chaser video shown worldwide.
Ben also helped put together the SPC Video Lecture Series and the Tornado Forecasting Workshop while he was working at the University of Oklahoma School of Meteorology. He also assisted with international weather installations in Thailand, Indonesia, and Dubai while working for Norman-based Weather Decision Technologies.
Track Map
Latest Chases
Latest Storm Chasing Videos