Storm Chase Details
Chase Date:
April 23, 2021
Miles Logged:
400
States Chased:
TX
Tornadoes Witnessed:
5
Largest Hail Encountered:
2.5"
Highest Wind Encountered:
75MPH
Milestones:
First tornado of 2021
Severe Risks:
SPC Outlooks
Chase Recap:
Forecast
I was itching to chase, and this system had been on my radar for almost 2 weeks prior. The day never looked like a slam dunk day to me, but I remained hopeful for a chase. Moisture return was adequate, but not great. Lapse rates were quite steep.
The forecast was obvious to me – Triple point (or whatever you want to call it) with a deepening low all day. Temperatures were not going to overall be very high at the surface, but steep lapse rates with a strong shortwave approaching more than made up for that.
As I sat at home all morning, I left a screen with visible satellite in AWIPS II. The mesoscale floater section was over the target area, so I watched the storms fire in 1-minute update intervals.
Leaving Norman late
At 3pm I wasn't even sure I was going to be able to chase. I was working some issues at work with no end in sight. The frustration was rising, but I did eventually get a chance to head out the door. Luckily I had loaded my car earlier in the day, and was able to just head out.
Straight to Vernon Storm
As I headed down the Turnpike, it became obvious the storm heading for Vernon was storm of the day. Backed winds at Vernon and Crowell made the decision easy. I set the GPS destination to Vernon and headed straight there, heading west through Lawton and south on 183 through Frederick.
First Vernon Tornado
As I approached Vernon, I got my first looks at the storm. It was a classic supercell with a very stout updraft. The wall cloud was large and beefy. I was liking what I saw.
As I was nearing Lockett on US-70, Zack messaged me and said "Beautiful cone tornado in progress". At first, I thought he was joking, as this was my view at that moment.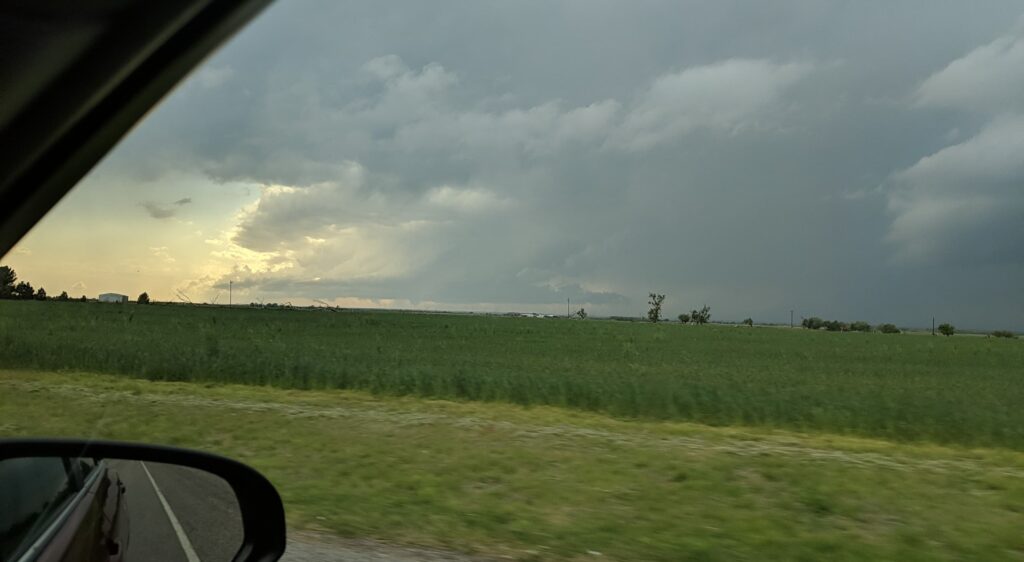 Sure enough, that lowering in the middle of the wall cloud was actually a big funnel with ground circulation. The condensation funnel didn't extend fully down. I bailed onto the next side road and headed west a mile before the river valley to get closer.
Getting Closer
I continued to snake my way through the roads on the south side of the Pease River to get closer. This would come in handy later, as I'd traverse the same roads again shortly.
Eventually I ran into the line of chasers coming down the road. I decided to drop back to 70 to stay on pavement and I figured I would need to drop south of 70 with current storm motion. About 1/4 mile down the road it was obvious to me this storm was about to plant again.
Vernon Texas Tornado
And plant it did. It dropped 2 tornadoes at once including this beautiful corkscrew. Unfortunately the video isn't so great because of my angle to the sun at that moment. The sun blew out the detail of that beauty.
As I continued east a couple of miles, it seemed like a larger one was ready to plant. As a funnel was coming down, I pulled into a pull off into a field I had driven by just a few minutes earlier. I struggled to get my tripod setup as a beautiful tornado planted. Eventually I got the tripod setup, but I didn't realize there was raindrops on the lens. I was too busy trying to get my still camera put together and working.
As the tornado just passed south of me, I was treated to a beautiful view.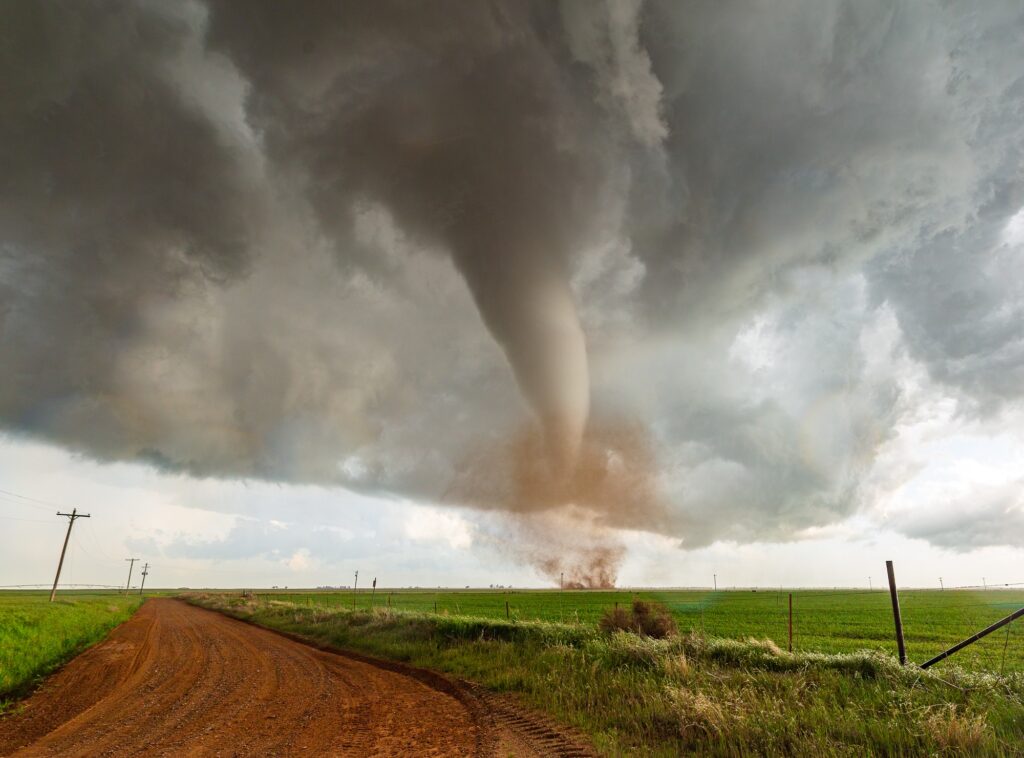 Repositioning
I re-positioned to the east side of US70 and then headed south. Trying to edit video and get my radar working again, I sat for a couple minutes under the storm. My radar had not updated in almost 30 minutes, so it was very much indicative of current conditions.
One more Tornado
Another tornado touched down well south of me. I ended up heading south 4 miles down center drive, meeting the tornado in a field as it dissipated. I had to go back north to the paved road I had just passed and take it over to US-183.
Photos
Links