Storm Chase Details
Chase Date:
April 22, 2015
Miles Logged:
878
States Chased:
TX
Largest Hail Encountered:
1.5"
Severe Risks:
SPC Outlooks
Chase Recap:
This is a day where I overthought the target and should have just not chased in general. My original target was south near Seymour, TX or even further south towards Abilene. This is the general direction I headed, ending up in Seymour mid afternoon waiting on storms to fire.
The morning outflow boundary had pushed way far south and I really was losing hope for any storms firing down there, so I desperately tried to head way far northwest towards Amarillo on a hope and prayer I could catch the storm firing up southwest of AMA near Hereford.
After a lot of driving, I finally caught up with the storm near I-27 and got caught in a shit load of hail in Happy. The storm seemed like it might wrap up and produce a tornado multiple times, but outflow seemed to surge every time that happened and would cut it off.
I ended down in Tulia as the storm dove to the southeast with some cool views and motion. Again it was never able to wrap up, but definitely a decent storm.
It was about this time a nice little Landspout was hitting the facebook feeds from down in my original target area near Anson, TX. That only added to the frustration!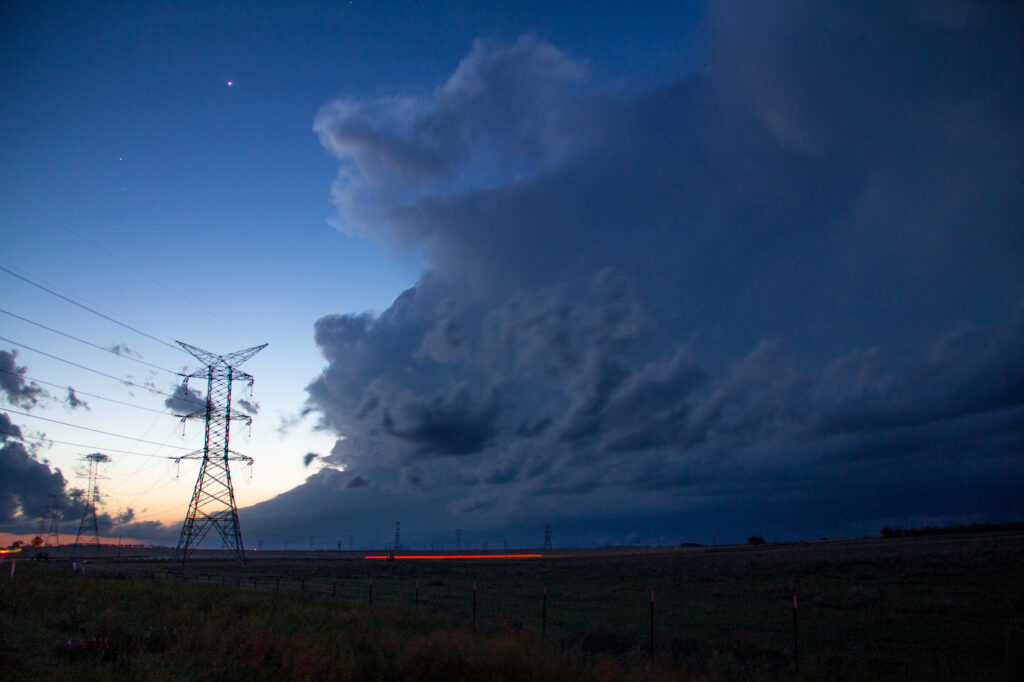 I followed this grungy storm across the caprock, surging way east in hopes to experience some "caprock magic" but alas, nope. I passed by the place I saw a tornado on 2009-04-29 in Cedar Hill and over the caprock. Great views as I got back to highway 70 and headed south.
Some great structure for those that chose to stay west and some trollnado near Floydada. I wasn't overly upset about it though, and continued south getting some decent lightning and storm shots.
I gave up on the day in Dickens and headed east with the intention of heading back to Norman through Seymour again, but got side tracked by a tornado warned storm after dark near the town of Knox City. Some decent lowered structure and a wall cloud observed, but again no tornado. I got under an awning as it hailed like crazy in Knox City before heading home to Norman.