Storm Chase Details
Chase Date:
May 24, 2015
Miles Logged:
768
States Chased:
CO, KS
Tornadoes Witnessed:
4
Largest Hail Encountered:
1.75"
Severe Risks:
SPC Outlooks
Chase Recap:
Picking up Jena from OKC Airport
As I was looking at this day, it seemed marginal. I wasn't expecting much, but Jari and I decided early in the morning to head out. We had to pick up Jena McShane at the airport at 11:30. Jena rode along once before in 2012 – a chase that went poorly. She still needed to see her first tornado. As I headed to the airport that morning, I didn't think the prospects of seeing a tornado were very high. Who knew we'd see the Plains, Kansas Tornado?
Forecast
This day had similarities to the Campo day (5/31/2010) including a subtle 500mb jet and shortwave trough through eastern Colorado. Ample moisture was in place and lapse rates were pretty steep. Jena and Jari were in town, so there was no reason not to head out.
Our original target was Guymon, OK but storms fired off the dryline a bit further west than expected. The storms were going up west of Boise City and up into Colorado west of US287. South of the Oklahoma Panhandle, there was other isolated development. The panhandle storms never looked as robust visually or on visible satellite. It was decided to head into Southeast Colorado ahead of an advancing line/cluster of storms.
Welcome to Colorful Colorado
The structure and landscape was pretty, as to be expected. Jena was able to get a lot of good photographs in Colorado and western Kansas. The storms grew upscale as they neared the Kansas border, becoming a visually outflow dominant. A shelf cloud was visible, so we stayed ahead of the storms as they weren't moving very fast. Storm motions were approximately 25-30 mph to the east.
Meanwhile, more storms were firing ahead of this line. These storms seemed a bit more isolated. A supercell was near my original target of Guymon. I decided that some hail may be fun, and we meandered towards that storm.
Liberal Kansas Supercell
The storm we were headed towards was near Liberal. It had matured somewhat and had a much better radar presentation. If anything, we'd check out the hail. It was on the way home too.
We approached the storm from the north near kismet. A tornado was reported by Chad Cowan, so we immediately became aware that there was a possibility of brief tornadoes. Not surprising with a decently sheared environment and low LCL's with high moisture content.
Supercell begins to wrap up
We hung around on US 54 near Kismet for quite a while. I was trying to use the small amount of city lights to create long exposure photographs. I wanted to see what was going on under the base of the storm. The storm seemed to be nearly stationary as it wrapped up. We repositioned 3 or 4 times to stay out of the rain and keep a visual on the storm.
Eventually we moved further northwest on US54 to near Plains, KS. The storm was showing better organization and rotation on radar, and visually was becoming a little better organized. I thought we had seen a wall cloud, but wasn't sure due to the darkness and low LCL's. Any time we got out of the inflow area we encountered fog.
Plains Kansas Tornado
As we're on the side of US54 in Plains, I decided to get out and get some video. I wanted to see if I could get a better look at the wall cloud. What I didn't realize is that a big tornado had formed, and was not far. The Plains, Kansas tornado took me by surprise. The words "Holy crap that's a big tornado!" left my mouth right after I stepped out of my car.
The Plains Kansas Tornado was Jena's first tornado. Subsequent lightning flashes confirmed what we saw – a large tornado moving parallel or so with the road. I dropped a report on SpotterNetwork then continued through Plains, Kansas. The town was shrouded in fog.
Mile Wide Wedge
As I got to US160, I turned left to head west along the north side of Plains. The tornado at this point was easily a mile wide. It paralleled Road 4 along the west side of town as it moved almost due north. We turned north on Road 4 and followed the tornado. At one point we got within 1/2 mile of the wedge.
Reed Timmer pulled in next to us as we were in a driveway. We were looking west at a huge wedge in the field nearby. The signature on the Dodge City radar was very impressive.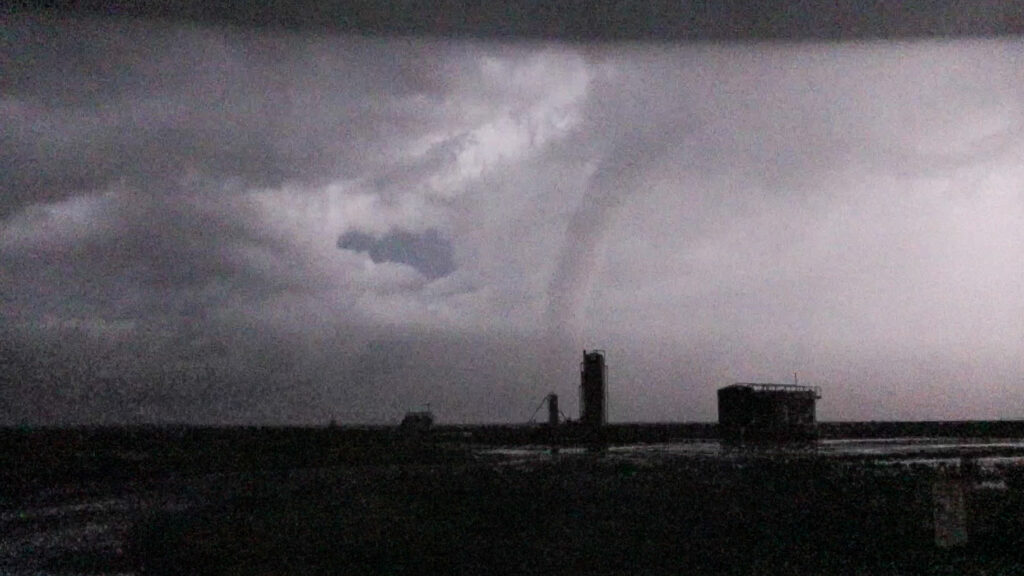 Next Tornado
Radar showed a new circulation forming to our east, but I didn't trust those crappy roads. They were soaked, wet and muddy. Without 4 wheel drive, I had to go south a few miles back to US160, then over to US54.
I took US54 east to Mead, and then turned north on Highway 23. The car was enshrouded in a thick fog which reduced visibility to 1/4 mile or less. Luckily data coverage was pretty decent, so we were able to pass in front of the circulation on highway 23. We would wait for the storm to come to us.
Unfortunately or fortunately, the next tornado seemed to occlude before getting to highway 23. The couplet moved off to the northwest. I knew a new circulation would form at any time, and i needed to get out of there. Being limited by roads, I quickly bailed north into the core up to US56.
Ensign Storm
I got in front of the next circulation just south of Ensign. We could just barely make out a tornado move across the sky to my north. I was expecting Ensign to take a hit, but it seemed to miss to the south. As I headed back north, it smelled like freshly mowed lawn. I believe a tornado just missed the town of Ensign.
Calling it
This was the point where we called it a night as it was close to midnight. The cold front had crashed in from the back, and storms were lining out. Velocities would suggest another tornado formed after that, but we were ready to call it a night. As I was heading south, I figured we'd be chasing the next day near Abilene. We stopped in Woodward for a short sleep. In retrospect, we should have slept in and skipped the next day.
Links