Storm Chase Details
Chase Date:
May 4, 2020
Miles Logged:
464
States Chased:
OK
Severe Risks:
SPC Outlooks
Chase Recap:
Pre Chase
Storms and supercells seemed possible this day with a northwest flow regime. I was never expecting much, but there was hints that the western part of the warm sector could have some isolated development. The capping inversion was strong, but it was possible.
Unfortunately, while doing my morning analysis about 10-11am I realized the cold front was in Wichita and moving south in a hurry. The west target would be no good, so I started to focus on the area near Tulsa. The mesonet was showing some backed winds in that area. So I headed up the turnpike to chase, originally getting on a storm near Nowata. That storm seemed to fizzle, so I headed to Vinita to get some food.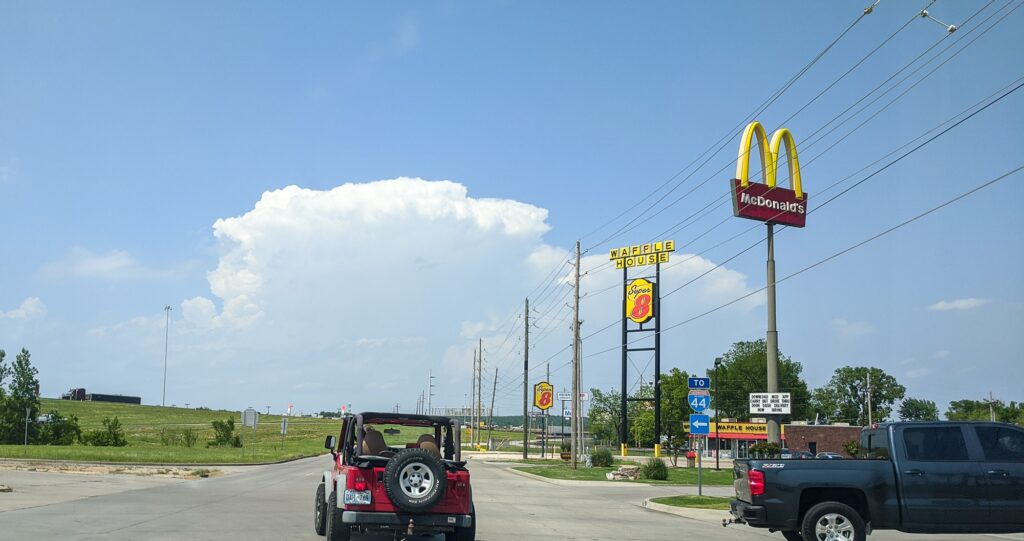 Chase Time
So the storm to the west of Vinita had started to mature and appeared to be turning right. I headed down route 66 to Foyil. The storm didn't seem to have much of a visible inflow region, however, the terrain made it impossible to see the storm. Some zig-zagging across the (surprisingly) paved back roads in that area and I got my first real good look at the updraft base as the storm crossed I-44. There were some better views to be had south of I-44 with more open fields. It was obvious there was little to no rotation in these storms at this point.
Inola Storm
I continued ahead of the storm, until I got to Locust Grove. I decided to drop back to the storm behind it near Inola. The storm dropped plenty of hail on US-412, and I decided to drop with it as it wasn't very big hail. Eventually I ran out of roads and decided to give up. Headed back home after spending less than $20 in gas.