Storm Chase Details
Chase Date:
April 24, 2010
Miles Logged:
1254
States Chased:
MS, AL
Severe Risks:
SPC Outlooks
Chase Recap:
We woke up in Vicksburg, MS on the morning of the 24th and inside of a High Risk of severe weather with a major tornado outbreak expected. A quick walk outside revealed that humidity/moisture was incredibly insane and that I needed to grow a pair of gills to breathe. The lower level jet was cranking already in response to the deepening low, as clouds were just screaming due north. Sun was already out in Louisiana according to the visible satellite and CAPE values were building. The atmosphere was primed for a HUGE outbreak of massive tornadoes, and we were at ground zero.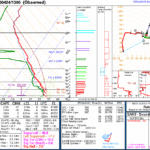 The 13Z (8am CDT) Jackson, MS sounding painted a very serious picture. With the moisture column almost saturated to 400mb, and a big curved hodograph, we knew we would be dealing with HP beast storms for the day.
Cells were already ongoing in Arkansas, and becoming Tornado Warned. We decided to get up US61 in a hurry to try and intercept them as they seemed like, at the time, the best cells out there.
After an already frustrating weekend so far we decided to really book up to those cells. We got pulled over and I received a speeding citation for 79 in a 55. Not a good start to the day, and frustrating.
We continued north, although not as fast this time, making it almost to Hollandale when Adam Lucio kept pleading with us to go back south and catch the tail end charlie storm that had really started to intensify in Louisiana southwest of Tallulah.
We dropped back south, heading towards Cary, where we stopped and observed the storm. The National Weather Service in Jackson came across the NOAA Weather Radio with a very urgent broadcast to seek shelter for the cell as it was Tornado Warned and the first reports of damage were coming in with it.
We headed further south towards Valley Park, and then I pulled off on a side road (Newman Rd) and headed a bit west hoping to get a better vantage point of the storm coming my way. This turned out to be a real bad idea in hindsight, although I did manage to get a few seconds of non-focused video of the Tornado before it blew over.
We headed back east, and then made a right on US61 to head south. It was at that point we were run over by the Tornado. While I am pretty sure we at least made it into the outer circulation of the tornado, I do not believe we were in the actual middle of the tornado. I had my window down and was filming out my window, however, I would find out later that I had pushed my record button too fast, and didn't actually record any of my encounter.
I pulled over on the side of the road and let things go by me, getting blasted by RFD. There was debris flying through the air everywhere. Just as quickly as it came, it was over. The first thing I did after things passed over was dropped an icon on Spotter Network.
I turned around and found David and Connor in a ditch, and damage and debris everywhere. I pulled them out of the ditch and then went to survey some of the damage, taking some video of downed power lines, tree damage and some structures destroyed.
The damage reports were coming in at this point, and Eagle Lake had a report of 30 homes destroyed. I headed to Eagle Lake to see if anyone could need any help, and to get some damage video as it was pretty much a given that I wasn't going to be able to catch back up with the storm. It was while driving to Eagle Lake that I found out my camera wasn't recording.
Once I got to Eagle Lake, I was unable to get in as the road was blocked off by Volunteer Fire. I ended up just turning around and heading back towards home as I figured my chase was done.
There was still tornado warned cells in Eastern Mississippi I thought I could catch, so I headed back east on US82 all the way across the state, catching up with the storms near Columbus, MS. These storms were falling apart rapidly, however, and as night fell, they pretty much died completely off.
I headed towards Tuscaloosa and then to Birmingham and up I-65. Another tornado warned cell had popped to my west, so I got in a position to observe/intercept west of I-65. I ended up finding a good place to stop and stepped outside for a moment. Once I stepped inside, I felt this burning sensation on my leg. I looked down to find a leg full of fire ants, so I spent the next few minutes trying to clean them off and do a phoner with WLNS TV 6 in Lansing.
I followed the cell back to I-65, then gave up for the night. I ended the night in Franklin, TN where I got a hotel room and slept till really late the next morning.
Photos