Storm Chase Details
Chase Date:
May 22, 2010
Miles Logged:
405
States Chased:
SD
Tornadoes Witnessed:
10
Largest Hail Encountered:
1.5"
Highest Wind Encountered:
70MPH
Severe Risks:
SPC Outlooks
Chase Recap:
Foreward
I am writing this chase account a number of months after the Bowdle storm actually happened. This whole situation took a long time to comprehend. The whole "in the field" incident is still a day which is burned into my brain. It will be one of the craziest days and things that have happened in my life.
Morning of May 22nd
We woke up the morning of the 22nd in Valentine, NE after getting in somewhat late the previous night. We left late and headed north towards Murdo, SD. I shared a room with Scott Bennett and rode up in his vehicle to Murdo.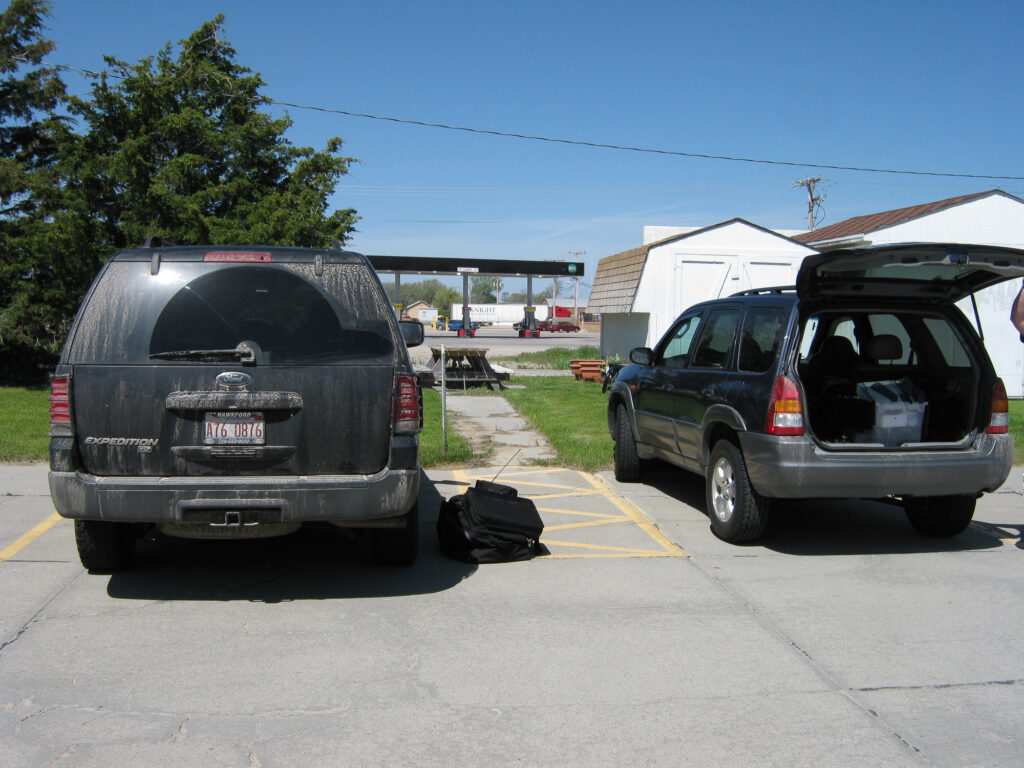 Targeting
My target was still a lot further north, towards Aberdeen. Adam, Danny and Scott liked along I-90. So we headed up to the truck stop in Murdo. We gassed up and met up with Bob Hartig, Mike Kovalchik and Bill Oosterbaan. They were watching the HRRR model and it was blowing up a storm slightly to the north of us later on in the day. Surface obs showed a decent surface convergence to our west, and we decided to position ourselves a little west to be on initiation.
We headed out to Highway 63 then headed north. I don't think our original intention was to go so far north, but we just kept going north on 63. The cumulus field along the boundary was quite agitated.
Construction and Gettysburg Gas Station
There was some sort of crazy construction north of the Missouri River. We waited on what seemed like forever at a light to cross the river. Finally, we got the green light to go through and we found ourselves on one of the crappiest roads ever.
We made it north to US212 and headed east. We had fallen behind the cumulus field, so we had to play catch-up. The cumulus was overhead and becoming even more agitated as we crossed back over the Missouri river at Gettysburg.
We stopped in Gettysburg and filled up our gas tank and tried to find some food. I think all of us picked over the last piece of pizza in the gas station food warmer, and all of us decided it probably was not edible. There was also a group of college kids in there, and I'm guessing each of them looked over that pizza as well.
Storm Time
Eventually we were on our way, and headed up highway 47 north. We caught up with the storm, which was still trying to mature. We watched it cycle multiple times before truly getting its act together.
Aberdeen put a tornado warning on the storm early. It eventually touched down about 2 miles west of Highway 47. We were just to the east of it as it touched down. We watched the tornado come east, and cross Highway 47 before occluding it appeared. Another tornado touched down, but it wasn't totally apparent to me what was going on in the back seat of the Expedition.
We were blasted with intense RFD, and I kept suggesting we go north and catch back up. Scott radioed us to tell us our tail light was hanging and about to fall off. We didn't end up going north for quite awhile, and ended up getting caught in some traffic. We got as far north as where the tornado crossed, and realized we wouldn't be able to go further as the TIV was caught up in power lines and was blocking the road.
So we had to bail back south and then head east on the first dirt road we came to. It was about this time we lost our tail light completely, and L.B. LaForce stopped to pick it up (thanks L.B.!). Adam also gave us a big scare, by almost losing control on the road and driving us off into a ditch or a tree!
Eventually we got up to US12 and continued way east of Bowdle about 10 miles until our next north paved option, Highway 253. We didn't realize it at the time, but while we were doing that we were missing the massive Bowdle EF-4 wedge.
We got to see the next set of tornadoes, including the amazing translucent tube east of Bowdle and the carrot tornado. Both were some of the most photogenic tornadoes of my life, and provided some amazing picture.
Eventually those dissipated and we headed further east to the town of Roscoe, and positioned north on Highway 247 near 129th street. Before we ever even headed north, we had a whole escape route planned, We would take 129th street east to County Road 9 south then 130th street to county road 15, and we should have been able to stair step down towards the town of Ipswich.
We saw another brief tornado that was mostly rain wrapped as we were looking into the notch of what was now an HP Supercell. The inflow was amazing, as towering cumulus was being sucked in at insanely sick rates.
Eventually we headed east on 129th street and south on county road 9. We got to the end of 130th street, and could see that it did indeed exist as far as we could see east. Bob Hartig, MIke Kovalchik and Bill Oosterbaan were at the same intersection, so we stopped and met up with them. Inflow into the storm was incredible, with 40-60 mph winds easily. L.B. and Bill LaForce showed up, and brought Adam back his tail light. We ended up deciding after a bit to head down 130th as the storm was nearing us. As we were driving down the road, a beautiful cone tornado touched down a couple miles behind us, and then turned into an amazing stovepipe tornado. Another Drillbit tornado touched down into the field directly north of us.
About 2 1/2 miles down the road, people started turning around in front of us, saying the road ended. The first one was Nathan Edwards, who was driving a smaller vehicle. We just thought that he wasn't able to get through mud or something, and so we hesitated at first. We turned around to head back and realized quickly that we wouldn't be able to go back as there was a stovepipe and drillbit coming at us. So, we flipped back around and headed back east down the road. The road did indeed end, right into a planted wheat field.
The tornadoes were getting closer, and we bailed into the field. I didn't realize at first we were in a field. I thought mostly that we were on a couple tire tracks or some other very unimproved road. We bailed south into the field, and made it almost 1/4 to 1/2 mile south along the fenceline, before flooding forced us to go east into the field more to get around it. Eventually we were all stuck, and had no where to go from the flooding, and we gave up.
Multiple tornadoes had spun up, including a huge multivortex, stovepipe and drillbit. One of the voritcies quickly spun up next to our car, hitting one of the puddles around 50 yards away.
Eventually we were all able to breathe a sigh of relief in the car once the winds turned to the west and the hail started to fall. We repositioned because we were facing east, and hail was dinging off the back window and it seemed like a good idea at the time to put the windshield into the wind and hail instead of the most costly back window. This is where we became really stuck.
The rain continued on for awhile, but tapered off and finally came to an end. We got out of our vehicles and started chatting in the field. What were we all going to do? We were stuck, and would most definitely need a tractor to pull us out. Furthermore, we were on someones planted crop. Would the owner help us out? Had his house been spared in the tornado?
Danny Neal and Mike Umschied decided to start walking out of the field in search of help. At some point news came back to us that help was on the way in the form of local tractors. Then a light comes skipping across the field, and it's Jeff Piotrowski. Apparently he had gotten stuck up by the edge of the road, and managed to eventually get himself out.
Bart Comstock shows up, and was talking about us getting out with tractors, and the fact they were just waiting on the owner. Then another guy comes walking down into the field that we don't know. He is a local farmer, and one of the ones with a tractor up there waiting to pull us out as far as I knew. He broke the bad news to us that the farmer wasn't happy, and that the cops were up there and that it might be a few days before we can get out vehicles out.
Wait a minute, a few days?! The 24th was looking good, there was no way we could end up stuck in the field for a few days. We needed to get out that night or the next day if possible.
Adam and I were determined to stay with the car for awhile, but it eventually became obvious that we'd need to abandon ship and head up and see the farmer and somehow find some transportation to a hotel and maybe get some rental cars we could drive back. Mike Umschied was able to get his car to the section line, so legally the cops and farmer who owned the field had to let one of the other farmers pull his car out.
It was just Adam, Danny and I waiting at the car still, getting our belongings packed up when Bob Hartig showed up and threw his stuff in the back of the truck. He was under the impression we were driving Adam's Expedition out. No dice, we were stuck.
So the 4 of us dragged our gear up the mile or so walk to the edge of the field. I brought all of my belongings with me, because I would have to be back to work at some point and I had absolutely no idea when we would be getting our vehicle back, and I started thinking about having to rent a vehicle and fly back to Midway airport which is where my truck was.
Adam ended up carrying my bag out as I was having a bit of trouble with it, and after what seemed like (and probably was) an hour walk through a very very muddle field, we were met at the road we originally drove down by a big white F-250 Superduty. The driver told us to put our things in his truck, so we did. We weren't sure right away that it was the pissed off farmer, but deducted after a bit that it was. Adam and I interacted with him a bit and seemed to somewhat diffuse the situation. He was definitely mad.
Somewhere around this time, we found out one of the people in the field had just been arrested, and the rumor was that we were all being arrested. Arrested? For what?!
It had to be somewhere between midnight and 1 am by the time we finally got out of the back of the white truck, and I still don't remember the reasoning, but the farmer dropped us off basically in the middle of the 2.5 mile stretch of road leading to the field. We were greeted by the other farmer, who told us all to hop in. We were supposed to be picked up by Bart Comstock, but he was not answering his phone, so eventually we got the other farmer to take us up to the shell station in Ipswich, SD and leave us there. We were going to wait there for Bart.
Well Bart had run out of gas before getting back to Aberdeen, but Mike Umschied was going to apparently get him some gas, and then get us so we could go to the ATM and get cash out to bail our friend out of jail. In all honesty, I would have almost bet my life savings on this friend having to bail me out before me having to bail him out.
The cops showed up, and were none too happy with us. The first thing out of his mouth was 'GOOD, I was looking for you guys'. He demanded to see all of our licenses and ran each and every one of us through LEIN to make sure we had no outstanding warrants, and whatever else. He told us that each of us would be paying the farmer back, or he'd issue warrants from the State of South Dakota on every single one of us. Even if out of 12 of us, 1 didn't pay, he'd issue 12 warrants on us.
He was none too happy. He then accussed us (as if all of the Storm Chasers in South Dakota that day were a group) of passing him while he was doing 90 with lights and sirens. While I highly doubt any chaser passed him doing 90 (I would believe something slower, like 50 or 60) he was very upset over this incident and was going to take it out on us.
All of us came back clean, and thankfully the cop was running very low on gas. One of his buddies came up and apparently had his own gas pumps with a generator or whatever, and so he left to go fill up, but not before highly suggesting we walk a few blocks to the motel in town (undoubtedly owned by one of his friends that would probably only take multiple hundreds of dollars per room in cash only)
Somewhere around 4 am Mike Umschied shows up at the shell station to pick us up. There's 4 of us, plus gear. Not going to fit in his vehicle. The plan is made that Danny and I will ride with Mike to Aberdeen, get some cash out of an ATM and secure enough hotel rooms for us all to sleep in until the next afternoon when we'd decide what we're doing with the vehicles.
We got to Aberdeen, and I withdrew my ATM limit for the day, and I believe Danny did as well. We had enough cash to bail out our friend, and were going to go get hotel rooms. We tried the first hotel, but it was booked solid, so Mike, Danny and I drove to the Super 8.
We got a call about this time that our friend had gotten release from jail, and we didn't need to go bail him out afterall.
Good news at the Super 8 – There was 2 rooms, one smoking and one non smoking, both double beds. Danny and Adam would share one room, and Scott Bennett, Mike Umschied and I would share the other. I got stuck with the smoking room, but I didn't even care at this point. I gave the girl my credit card, and paid for 2 nights for that room, with a request to move to a non smoking room the next day. She said this shouldn't be a problem.
Danny leaves, and goes to his room. Mike walks outside to get his stuff, and I walk to the room. I open it, and there's luggage already on the floor, and people sleeping in the bed. I close the door, and go back to the hotel desk and let the clerk know. She told me that it wasn't possible, and I told her to go check if she didn't believe me. She made a quick call over to some other hotels in Aberdeen, and found America's Value Inn, which had rooms. She told me my room for the night had been canceled, but I made a reservation for the following night as I needed to be in the same hotel as Adam and Danny.
We went to America's Value Inn and got checked in. The room was very nice, and I believe i passed out for a little bit before Scott showed up. I can definitely say it was after 5 am at this point, almost 6 am when Scott showed up with Bart.
We both slept, and woke up the next morning. I realized I left my bags in Mike Umschied's car, so I needed to get ahold of him before he left back for Dodge City. In the meantime, I needed to brush my teeth so I went to the front desk. As I'm walking down the staircase, I hear the girl at the front desk telling other guests about these crazy storm chasers that ended up in some farmers field. I just rose my hand and went "It was me" and had a pretty good conversation about it.
"Yes we drove into a farmers field"
"No, we didn't want to do it"
"Yes there was multiple tornadoes coming at us"
I got my toothbrush, and a shower before checking out and having Bart drive us to the Super 8 to check in, then taking the owners of the vehicles back to the field at 3 pm. The Farmer had agreed to pull everyone out, and it would only cost us $400 per person. I gave Adam my cash, and told him to take it in case he needed it.
I checked into the Super 8, and was charged again for that night. Unfortunately, the previous check in for 2 nights was never voided properly, as I came to find out months later. I ended up paying for 3 nights in that hotel when I only stayed there one night. It was a major bummer, and I probably won't stay at the Super 8 in Aberdeen, SD ever again.
After a few hours, Adam showed back up with the truck. He had paid for his share in cash, and gotten addresses so that we could maili checks. We went to Walmart to get new shoes and beer, then met up with Tony Laubach and Jeff Duda at the Best Western to trade stories and drinks. I got myself a steak to celebrate an amazing day. A day I would never forget.
Video
Photos
Links