Storm Chase Details
Chase Date:
May 12, 2022
Miles Logged:
1585
States Chased:
SD
Highest Wind Encountered:
90MPH
Severe Risks:
SPC Outlooks
Chase Recap:
Encountered winds nearing 90 MPH northeast of Huron, South Dakota after a fast moving derecho forms in Central Nebraska.
Forecast
Complex forecast with a strong and highly amplified trough moving out from the Rockies. Storm mode would likely be linear pretty quickly, but the environment adjacent to the warm front/Triple point in South Dakota would be absolutely primed. If a discrete supercell could go up in that environment, it would be a prolific tornado producer.
03Z RAP 2022-05-10 Forecast Hour 41
03Z RAP 2022-05-10 Forecast Hour 44
Unfortunately, it would be obvious the cold front would crash in early and kick off a strong MCS/derecho.
Departing Sioux Falls
I left Sioux Falls Hampton Inn around 11am and started north on I-29 to Brookings. The warm front/convectively reinforced boundary from the early storms was very evident on visible satellite. I'd head a bit west from Brookings towards Huron hope for the best.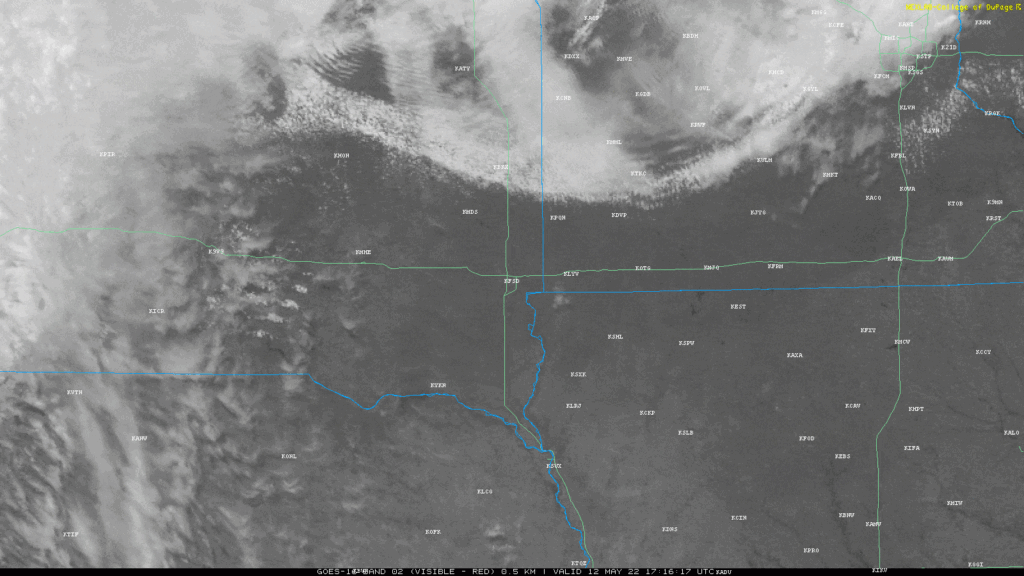 Manchester
I made a stop in Manchester and found this neat little memorial of the town and the tornado.
20Z Mesoanalysis Update
As afternoon heated up, I found a nice, quiet, scenic spot next to the James River just north of Huron. The atmosphere, as advertised, would be primed if we could just get one single discrete supercell. That would not happen. Matt Salo eventually found me and we waited for the line of storms coming out of Nebraska to hit us. There was wind reports of 90+ to our south.
Derecho Impact
Matt and I found a wide open area to take the winds as the line approached. I took some video and time lapsed it below. Aberdeen issued a tornado warning on the storm as it came out of Huron. Huron reported a 90MPH wind gust, and I estimate we encountered similar wind speeds.
Video
Heading home
After the line passed me, I decided to begin the journey home. I dropped south through Huron to Mitchell and south into Nebraska near Niobrara. I saw quite a bit of damage along the way, including chicken coupes with missing roofs, grain bins collapsed, an overturned semi and road signs blown down.
The sunset was absolutely incredible.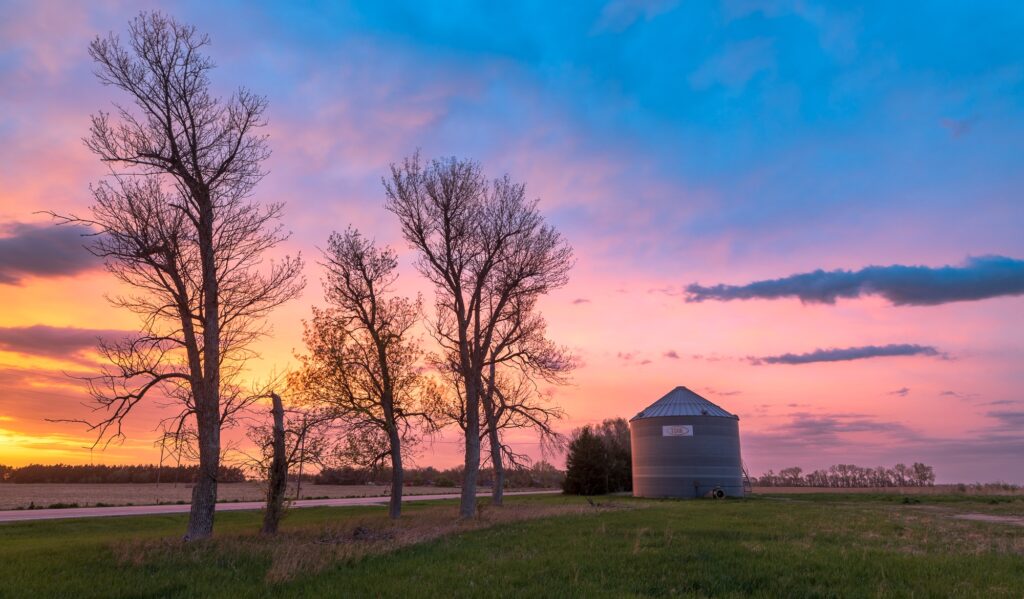 Links