Storm Chase Details
Chase Date:
May 24, 2011
Miles Logged:
441
States Chased:
OK
Tornadoes Witnessed:
2
Largest Hail Encountered:
1.5"
Highest Wind Encountered:
75MPH
Severe Risks:
SPC Outlooks
Chase Recap:
A recap of my chase on May 24, 2011 where I observed the Chickasha, OK tornado and the Shawnee/McLeod, OK tornado.
Pre-chase
I started off this day with high hopes of leaving work early, but as the morning and early afternoon progressed, I was starting to hope for being able to leave on time or leave at all to chase. Needless to say, it was very frustrating to watch a wedge tornado happening 20 miles from your location and being unable to chase it.
12Z Upper Air Soundings
18Z Upper Air Soundings
Leave work at 5pm, see tornado
Around 4:30 my boss gave me the green light to hit the road, so I raced down to Chickasha by SH-9 to I-44, arriving with about 5 minutes to spare before the Chickasha tornado touched down. I missed the initial touchdown as it was obscured by a hill, but I was able to quickly get into position, get a camera tripodded and start shooting stills.
Chickasha Tornado
I followed the Chickasha tornado all the way up 277/SH9 through Blanchard where it became obscured by rain. The tornado started off as a cats-tail tornado and morphed into a wedge eventually. Unfortunately, the road network is pretty crummy in that part of Grady county. I finally bailed at the turnpike spur, and headed east to try and intercept the other cell going through Goldsby.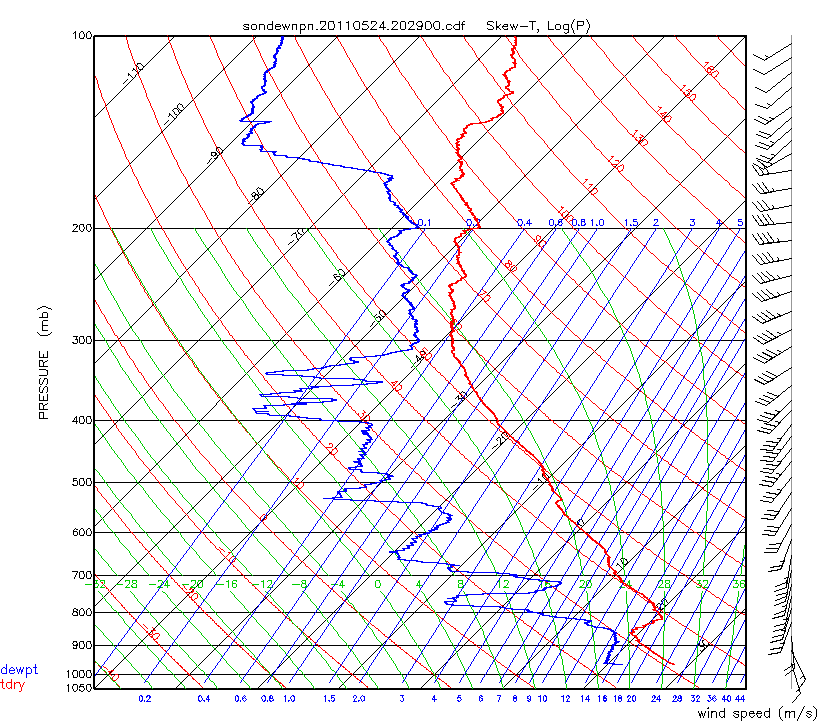 Driving through Norman
I encountered torrential rains and outflow winds on SH-9 east. The winds were enough to blow my car from the right lane almost into the left ditch as I neared I-35.
Getting onto I-35, I went north and exited on SH-9 east. I was trying to see if I could see anything on the southeast side of Norman. I observed a wall cloud but nothing more, and raced up 48th SE to Franklin, then over to 120th up to I-40.
McLoud Tornado
I jumped on I-40 eastbound and observed the most beautiful elephant trunk crossing I-40 near McLoud Road. The tornado hit a semi trailer and spewed debris into the air, some of which was falling on my truck as I was pushing east on I-40.
I kept heading east on I-40 to SH18 and headed north to Meeker before giving up on that cell. I headed south as it appeared the next cell in the line was showing some big signs of strengthening. As I was heading to intercept it, I got stuck on I-40 for a number of miles in a construction zone, and finally decided to give up as it didn't seem to be doing anything either.
Exiting the highway at SH56, I topped my tank off and ran into a bunch of other chasers at the gas station. I managed to fill my car up, and was sitting around editing video. I finally looked back at radar, I realized the storm to my northeast was looking beautiful.
Back on the chase
I ended up being a sucker for that, following it all the way to Wagoner before giving up on it. There was a couple times I could see power flashes near Haskell, OK. Tulsa has confirmed an EF-2 tornado southwest of Haskell, so this must have been what I saw.
I left Wagoner and made a quick stop in Tulsa before heading back home to Norman.
Video
Links