Storm Chase Details
Chase Date:
November 7, 2011
Miles Logged:
392
States Chased:
OK
Tornadoes Witnessed:
8
Largest Hail Encountered:
2"
Highest Wind Encountered:
50MPH
Milestones:
First November Tornado
Severe Risks:
SPC Outlooks
Chase Recap:
Leaving Norman
I left work at 11:15 and headed to my apartment to pick up Adam Lucio and Jon Williamson. We were quickly on the road, heading down I-44. When we got to Lawton, we headed west on US-62 towards Altus. Cory Watkins followed us as we made the trek west. We stopped to top off our tanks in Altus.
Chase Time
Storms had already begun to fire and were starting to mature. We had a choice of a cell near Childress, TX and another passing Quanah, TX. The decision was made to go after the Quanah cell, which had a better looking base visually.
We drifted south towards El Dorado and caught up with the storm. It seemed to be cycling somewhat rapidly, never fully organizing. RFD would try to wrap around the southern edge of the storm but the wall cloud could never tighten up. Eventually the storm lost all base features and we decided to start heading east. The storm west of Frederick was looking pretty good and was tornado warned.
Bailing East
Eventually the Frederick storm, which would become "storm of the day", became the clear winner. We bailed east as fast as we could towards that storm. Unfortunately the wet red dirt roads were tough to drive on and navigate.
Tipton Oklahoma Tornado
We found a paved road through Olustee and Elmer before coming up the backside of the Tipton storm. The vault was hidden by a hail shaft, but spotter network was popping up reports of tornadoes. We punched through the rain and hail, when a beautiful white cone came into view. There was a nice sized debris cloud around the base of the Tipton Oklahoma tornado. We drove north on a dirt road to get closer. Apparently we drove by Andy Gabrielson seconds after he flipped his SUV.
New Development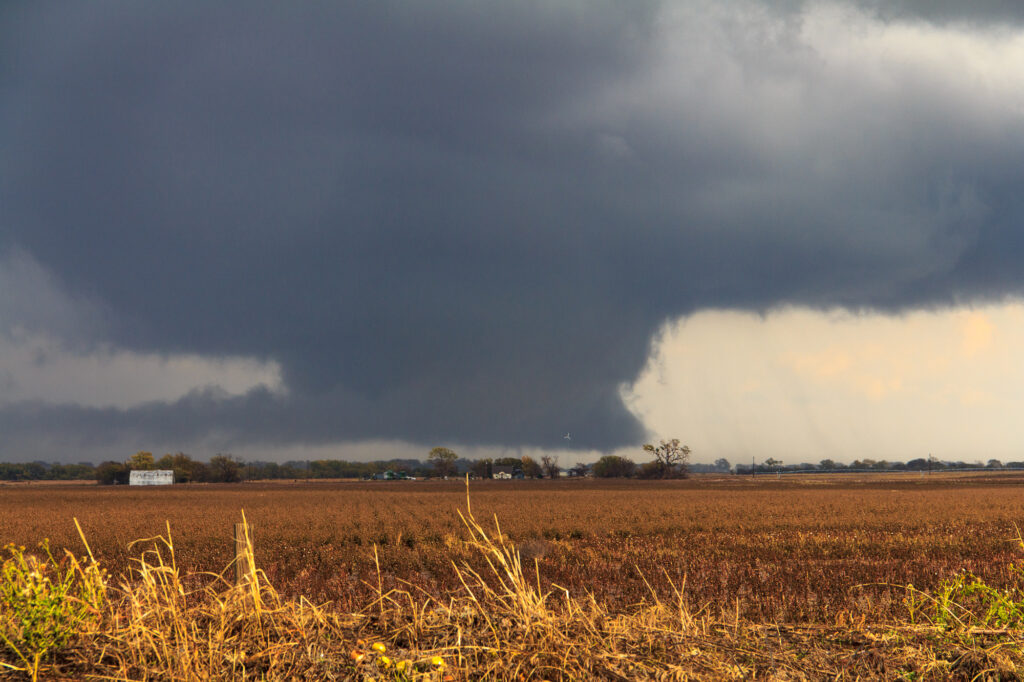 As the Tipton tornado roped out, we became interested in the wall cloud to our east. After the dramatic rope out, we headed east on the slippery red dirt roads. The roads were an absolute mess, and I had a lot of trouble with my F-150 and BFG All Terrain tires. It was hard to maintain more than about 35mph. The Manitou tornado was to our east, and unfortunately we were a bit far away.
After a few miles of treacherous roads, we finally made our way to US-183. As we headed north, we watched vorticies dance along the ground to our right. We made it to US-62 to head east. As soon as we got on 62, we were stuck behind a parade of State Troopers running a rolling road block. They were blocking the road, making it impossible to get by.
Wichita Mountain Wildlife Refuge Tornadoes
We headed north on 54 and stopped near the road that goes through the wildlife refuge. I found some hail stones over 2 inches in diameter at that location. I started to film a developing tornado before we were blasted by rain and wind in the RFD.
We started driving into the refuge, but traffic was going 35MPH. I knew there was no way we could keep up, so we decided to flip around and shoot up 54 to 19. We had to hook slice to get back on the storm, which had a bit of hail. Once we came out of the rain, we were seeing the tornado coming through the wildlife refuge near Saddle Mountain, OK. The tornado came over the mountain and went through the wind farm.
Tornado in Wind Farm
Once the tornado cleared the wind farm, we started heading north again. One meso seemed to occlude while another intensified over our head. Debris flew across the road going both ways in opposite directions. My ears popped as well. We likely drove through some sort of tornadic circulation.
Alden and Fort Cobb Tornadoes
We continued following the storm all the way to Fort Cobb, seeing multiple tornado touchdowns. One nice brief tornado was near the town of Alden. The finale of the day was a nice cone over Lake Fort Cobb. The storm was also showing some very nice structure at this point as well.
Quakenado
The chase was finally called at Binger. We headed to the Cimmaron Steakhouse in Oklahoma City. Other chasers met us and we celebrated with steaks.. While we were eating, a Magnitude 4.8 earthquake happened. It was centered nearby in Lincoln County. What an incredible day! Quakenado
Links