Storm Chase Details
Chase Date:
May 9, 2016
Miles Logged:
336
States Chased:
OK
Tornadoes Witnessed:
4
Highest Wind Encountered:
70MPH
Severe Risks:
SPC Outlooks
Chase Recap:
These are the kind of chase days I live for. Loaded gun sounding, good moisture, and great jet stream with a compact shortwave approaching. The days that are primed for dryline supercell development in Central Oklahoma. The Wynnewood tornado will be one of my favorite and best tornadoes of all time.
Before the Chase
I was apprehensive at first. I expected this day to have a lot of flaws, including storm location (eastern Oklahoma). Early NAM runs were showing a departing 500mb jet, cape in extreme eastern Oklahoma and Western Arkansas. More concerning were the veered 850 winds. By Sunday night and Monday morning it seemed more likely that the dryline may setup west of I-35 and keep storms out of the worst of the terrain. The wind field seemed a bit more cooperative as well.
The 12Z NAM
As we woke up on the morning of the 9th, it seemed a lot more reasonable that a chase would be in order that afternoon. The trough axis was still lagging out west per 12Z NAM, and no departing jet like had been forecast. By 21Z there should still be 50-60 knots at 500mb over Eastern Oklahoma atop 2000+ J/KG of MLCAPE and respectable SRH numbers in the 100-300 range. Mesoanalysis was showing 350 effective SRH before I left, as well as the special 18Z OUN sounding showing a very "loaded gun" environment.
Hitting the Road
I left work at 1:30 and headed home to pick up Jari. My initial target was Pauls Valley to Ada, so it made sense to drop south on I-35. My expectation was that we'd have to wait for storms to fire off the dryline. I'd expect storms would then move east a bit towards Ada as they matured. After chasing 2011-05-21 I know that area is tough to chase, but not impossible.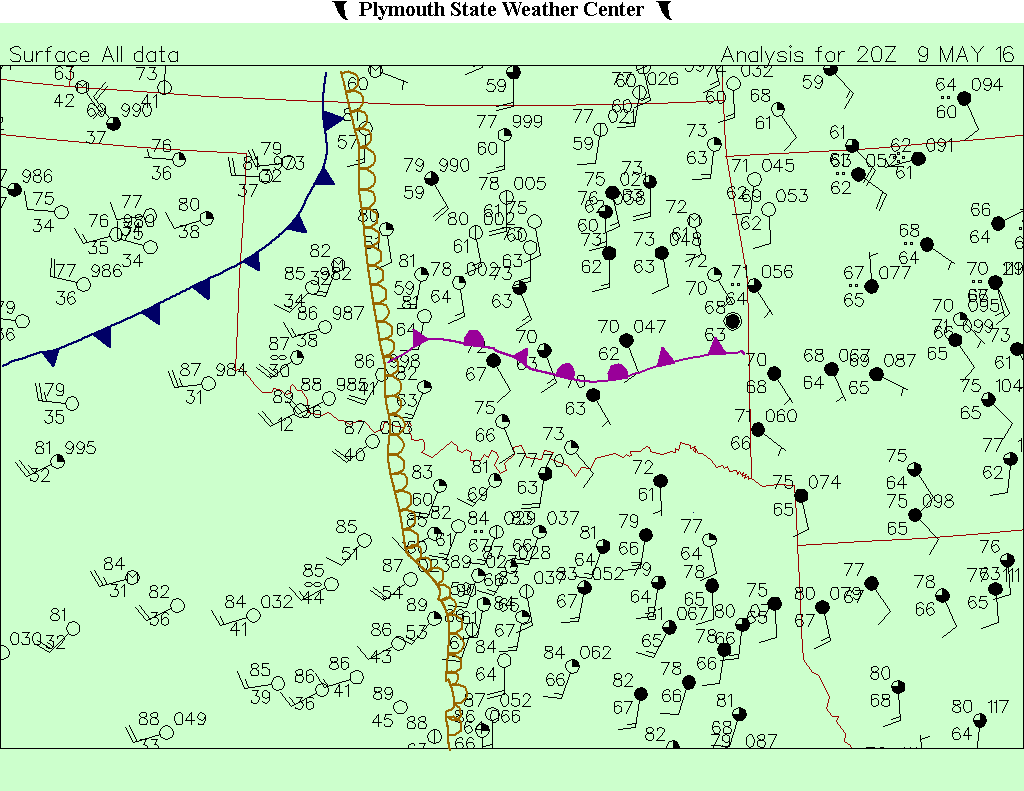 So down I-35 we went, stopping in Pauls Valley to fill up the car up. There were some blips showing on radar to our southwest. I decided to drop south to OK-7 Davis exit. We ran into Tim Marshall at the Chickasaw truck stop right there at the exit.
Storms Developing
We waited maybe 10-15 minutes before heading a little west to get a better look at the explosive storm development going on. This would be another day in my chase career that I would watch a storm form, from a towering cumulus to a tornado. As it would turn out, that would happen rather quickly.
We stopped about 4-5 miles west of I-35 and setup a camera for a time lapse. We saw a long-lived shear funnel in the mid levels of the storm early in development.
Wynnewood Tornado
As the storm slowly drifted north, it seemed there were multiple competing updrafts. As we headed north on Meridian, we were in a battle with the terrain. There were no places to observe the sky safely. We ended up at Highway 29 east of Elmore City. The best chance of a view looked to be west, so west we went to a water tower 2 miles west. That's where I ran into JR Hehnly and Dan Brown in one car and Dick McGowan and Darin Brunin in another car atop a hill. The hill had a perfect vantage point to what was going on to the southwest.
I had time to park and setup a camera it seemed like before we started seeing a funnel. JR called it in to the NWS on amateur radio. Jari and I bailed south on N3210 Road to another vantage point. We watched the tornado have snake-y vorticies dancing around for a couple minutes before I decided we should get closer.
Close intercept of the Wynnewood Tornado
We headed south again on N3210 towards E1680, capturing some incredible footage as the tornado moved to the east, crossing N3210 south of us. We pulled south and just north of where it had crossed and got some incredible footage. The view of the beast ripping up the earth in Oklahoma is nothing short of amazing.
Eventually we proceeded east again towards the intersection with Meridian Road. The tornado hit structures – what I understand later was a house at this intersection. The footage from this vantage point was again nothing short of incredible. Dick and Darin's footage is some of the best tornado footage ever, and you can see my car in it driving at the tornado.
The Wynnewood tornado zig zagged across the road as we followed behind. We continued closer until we were cut off by debris and had to backtrack to Meridian Rd and north to 17A to get across I-35. The tornado dissipated without me getting another view of it, but Jari was able to see it.
Joe Exotic "Tiger King"
As we were crossing I-35 on 17A we were stopped by a bunch of idiots in the road. I would later find out these idiots were the stars of the NetFlix documentary Tiger King.
Joy Tornado
As we were dropping south to Highway 7, we encountered a tornado near Joy.
Sulphur Tornado
We headed east to US-77, with hail in the core up to golf balls. I realized quickly the roads east of US77 were garbage. We crossed under the storm on 77 and observed a cranking mesocyclone. There were intermittent touchdowns to the east of US-77. Unfortunately, there were no roads, so we had to continue south to highway 7 and east.
We took the Sulphur by-pass to US-177 and then north. We crossed in front of a huge wedge tornado under one of the most beautifully sculpted supercells I have ever seen. Jari and I setup for video and stills just north of the track.
Eventually the rain bands came across the last tree line before us, and I didn't feel safe. The CSWR DOW truck was still sitting there, scanning, but I decided to bail north to safety and east to setup for another view. We wouldn't end up getting another view as I took E1650 this time to the town of Roff and sat by the entrance to the Turnpike. The circulation was southwest of me, but I was stuck in rain. I just continued east through Roff and down the paved E1650 route to 377. A tornado emergency had been issued for Roff and I didn't want to be there in a HP supercell situation.
Atoka Tornado
When we progressed to US-377, we had to yet again bail way south due to crappy roads. More tornadoes were reported on new storms to the east. One tornado was reported near Wapanucka, and logically that storm made the most sense to follow.
So we dropped to highway 7 again – an area I had just been in March to go camping on the Blue River. We drove east on 7 and finally got a view of the base of the storm near Atoka. I wasn't sure at the time, but we were observing a tornado from the south. Luckily the roads were a little more cooperative and I was able to head NE on US 75 and get another view. We witnessed a nice little cone between Atoka and Stringtown. I believe this was the same tornado as the previously observed one.
Things seemed to go downhill both in terrain and storm intensity just shortly after this, so I decided to call it a day instead of trying to hurry south and see more. All in all a great chase day, one of those "career" chases as people call them. All less than 2 hours from home.
Links