Storm Chase Details
Chase Date:
May 8, 2016
Miles Logged:
351
States Chased:
OK
Tornadoes Witnessed:
1
Largest Hail Encountered:
2.5"
Severe Risks:
SPC Outlooks
Chase Recap:
Foreward
Had pretty high expectations of this day – Instability seemed good, moisture had returned better than I expected and wind shear was decent. The plan was to head to the Cherokee trading post on I-40 and decide if I wanted to go north or south. South had a better chance of a cap bust, but things generally looked better down there. North target seemed more of a 'sure thing' for supercells and possibly tornadoes.
Forecast
The 12Z NAM on the 7th was showing very favorable conditions for supercells and tornadoes in Oklahoma.
Decision Time
We sat along I-40 and watched the boiling cumulus field coming out of Texas. It was then we realized we needed to head south and get in position. We were about 45 minutes from intercept near Hobart, so I stopped and got gas. Storms were trying to mature, but mostly just splitting. The left splits seemed to be favored. That was not in my forecast, so I had made a mistake.
Structure and Hail
One right split managed to maintain itself down by US 62. That storm threw off multiple left splits, including one with amazing structure and a great wall cloud. I captured some photos of the structure near Mountain View before we had to take shelter from the hail.
As the storm roared past us in Mountain View, we decided to make our way south to the right mover. The storm was coming out of Lawton as we dropped south to OK-7. The hook slice I had to do on OK-7 was the most intense of my chase career so far. Visibility was only 10s of feet at some point between wind rain and hail. Eventually we were able to punch out of the rain and hail into the cage. We had a great view of multiple wall cloud cycles with great motion but lack of focus.
Marlow Oklahoma Tornado
We were approaching US-81 when it finally produced. I saw the wall cloud rotating pretty hard and said "I've seen a tornado form before and thats what it looked like". No less than 15-20 seconds later, we had a funnel then a tornado!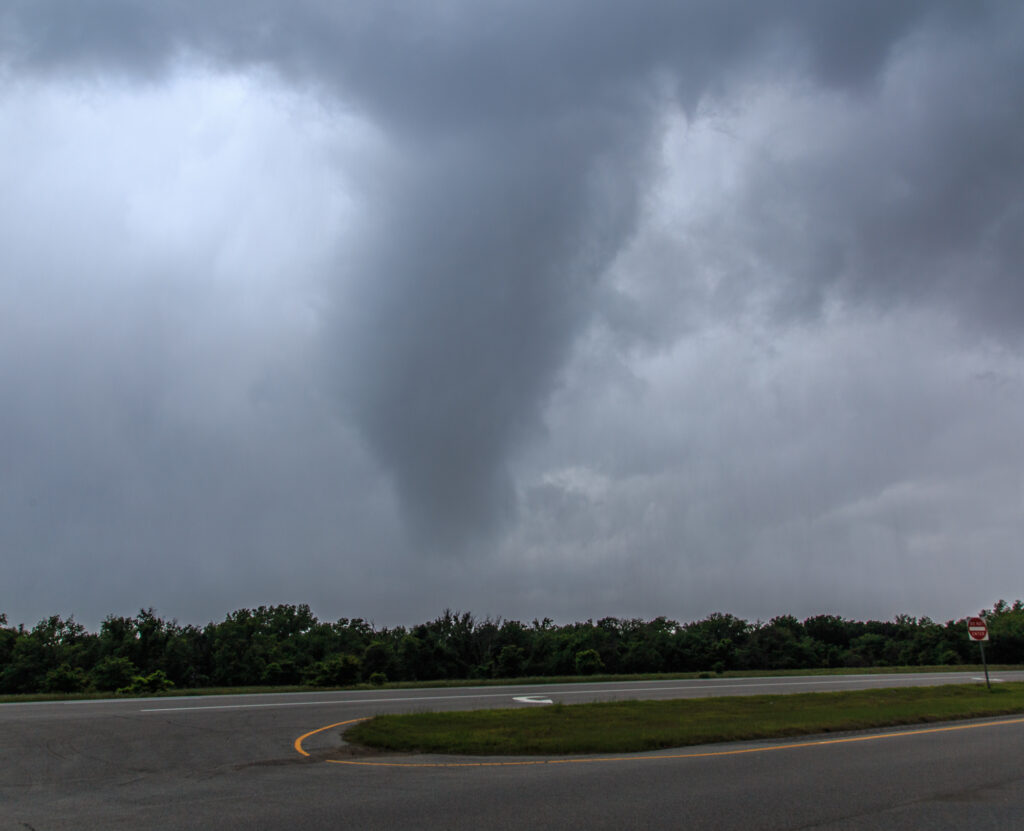 The Marlow tornado wasn't spectacular or greatly photogenic. However, it felt good to score after some hail, structure and good storms earlier in the day.
Afterwards, the storm seemed to trend downward pretty quickly, losing it's organization with multiple rotating wall clouds and then losing it's severe warning and updraft collapse on radar. We called it and headed back to Norman
Links