Storm Chase Details
Chase Date:
October 10, 2021
Miles Logged:
351
States Chased:
OK
Severe Risks:
SPC Outlooks
Chase Recap:
A moderate risk in October in Oklahoma is quite rare. I've become pretty negative on fall setups overall as they just are not as fruitful. This would be a day that would not live up to the hype at all.
Setup
After spending 2 months sitting squarely under a ridge of high pressure, western troughing showed up on the models. I was hesitant at first, with the GFS showing a positively tilted trough for Sunday. Plus, I would be in Nebraska still from the Michigan game the night before.
As models trended upward, I changed my hotel plans around so I could stay in York Saturday night. I'd hurry up south on Sunday morning to chase in Oklahoma.
Return to Oklahoma
I was on the road before 8am in York headed southbound on 81 towards Oklahoma. Bill, who came with me to the game, picked up Lisa and we headed for Oklahoma City.
The low was centered somewhere near Childress/altus area, My hope was that it would be much closer to the metro area, so I wouldn't need to drop so far south.
Picking up Zack and heading southwest
It was apparent that I'd need to venture out away from Norman to Chickasha. I decided to drop to Lawton and head a little west. Eventually Zack and I settled on sitting near Manitou where we could monitor while we awaited initiation.
We watched the storms along the dryline struggle. The triple point storm, however, seemed to be the most robust storm. We headed north and intercepted as it crossed 183 north of Snyder. The storm had some intense downdrafts, with us experiencing winds meeting severe criteria. Unfortunately, the temperature also fell from the upper 70s to low 80s down into the low 60s pretty quickly.
Dropping south to Wichita Falls storm
The storm was right on the front. With the wildlife refuge, the road network and the threat of hail in my new car, I made the choice to drop south. We originally were looking at the little bean storm just south of 62, but visually it was less than stunning. Next in line was a severe warned storm near Wichita Falls, so we dropped to that.
The storm had good outflow winds. We experienced some in excess of 60 MPH gusts.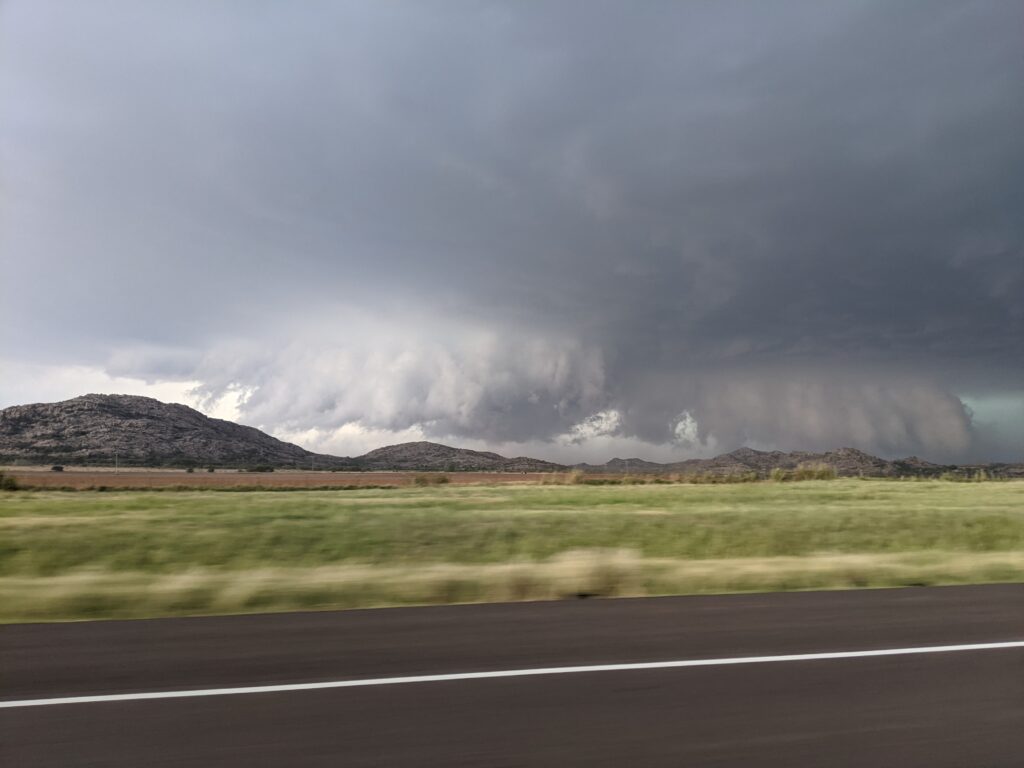 Video