Storm Chase Details
Chase Date:
October 12, 2021
Miles Logged:
458
States Chased:
OK
Tornadoes Witnessed:
2
Severe Risks:
SPC Outlooks
Chase Recap:
Pre Chase
Tuesday the 12th was the last day in a long string of busy days starting with Thursday before doing a big house project before leaving Saturday morning to go to Lincoln Nebraska for the Michigan vs Nebraska game. After that game, I drove home and chased Sunday. I had started to write off Tuesday the 12th as the best shear was looking to be away from the best thermodynamics in model runs Sunday night and Monday.
Nevertheless, shear was forecast to be on the strong side. Moisture return seemed to be more robust than forecast models had predicted. By late morning on the 12th, I had decided I wanted to chase for sure. I was glad I brought my chase gear to work.
Leaving Work
I left work around 2:30 and headed west on I-40 out of Oklahoma City. I was torn between a southern red river target and further north near Canadian, TX to Arnett, OK. Visible satellite and water vapor showed a much better environment south. I took the SPC bait north and started the northwest passage up 281 towards Watonga and then Seiling.
As I was nearing Seiling, it became pretty obvious that the towering cumulus in the Texas Panhandle was not going to mature into storms, leaving the storm that had fired near Childress as the only real chance of a daytime supercell.
Supercell south of Clinton
So I headed towards Arnett and dropped south on US-283 towards Sayre. Heading south on 34, I got onto the storm around Willow where I saw a tornado on March 18, 2012. I spent the next hour or so under the updraft region of the supercell. You could see a backwards wall cloud for the left split, but the right split never seemed to have good structure underneath.
As darkness started to fall, I got back to I-40 at the Foss exit after some crazy navigation. I was pretty much going to give up on the storm there, and took shelter under an overpass at MM57 off the highway. We had some small hail, but nothing as big as I was expecting.
Clinton Oklahoma Tornado
I continued east down I-40, heading towards home. Still watching radar, I realized the storm just off to my north was close to producing just east of Clinton. I got off at Exit 71 and headed north after seeing a big wall cloud with funnel off to my north. Others made tornado reports, but I was unable to confirm touchdown due to lack of light.
As I headed north on N2310 Road, I witnessed more touchdowns/tornadoes including a fat stovepipe with what appears to be a satellite tornado. This was hard to confirm in real time, but I was able to confirm with video captures later.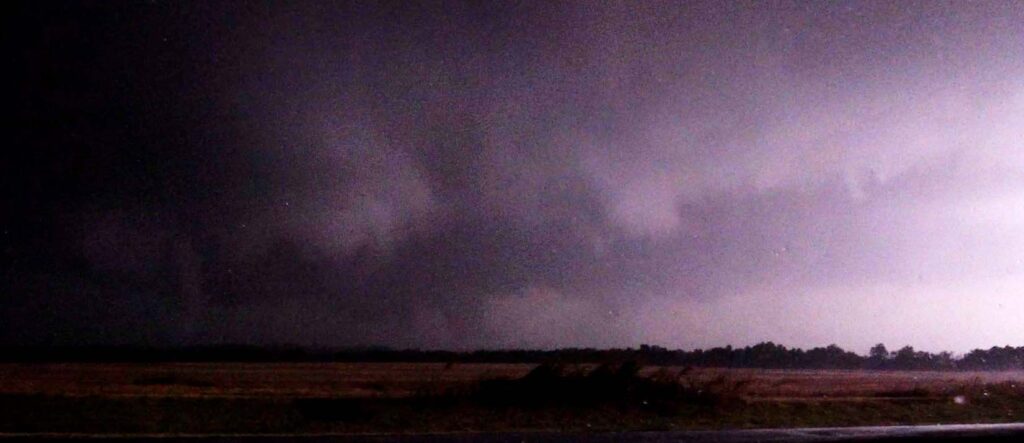 Dropping South
I continued north for a little bit, but the storm obviously had cycled and was moving into more stable air. The intensity fell quickly, and I decided to go back to I-40 with the intention of heading home again. But, the storm that had produced tornadoes down by Frederick was heading towards Anadarko, so I took a slight detour south on 281 towards Hinton and then down to Anadarko.
I got back on that storm down near the 62 and highway 9 intersection, but was unable to get a clear view at the base. The storm was very electric and I 'chased' it back to Anadarko before dropping off and taking 62 back east to I-44 and heading home.
Dashcam Footage
Of course, I forgot to grab the card out of my Blackvue dashcam. It was supposed to cut off at 12.5volts, but with a new car comes a new battery and it just kept recording all night and all the next day. When I grabbed the card on Wednesday afternoon, the footage from the previous night was all purged off. Stupid mistake, but I still was able to salvage some shots from my camcorder.
Links