Storm Chase Details
Chase Date:
February 26, 2023
Miles Logged:
460
States Chased:
TX, OK
Highest Wind Encountered:
70MPH
Severe Risks:
SPC Outlooks
Chase Recap:
Fast moving supercell storms fired in the Texas panhandle and moved quickly towards the Oklahoma City Metro area. An EF-2 tornado would end up passing 2 miles south of my house in Norman, with Southeast Norman sustaining some bad tornado damage.
Forecast
Unseasonable moisture had come ashore and northbound, with 60 degree dewpoints sitting on the red river. A very strong system had come ashore in California the previous day and was moving into the Texas Panhandle. The forecast soundings were showing some incredible shear values. Storm Motions were showing 50-60 knots as well. This would be a pretty challenging chase, however, it was a Sunday in February.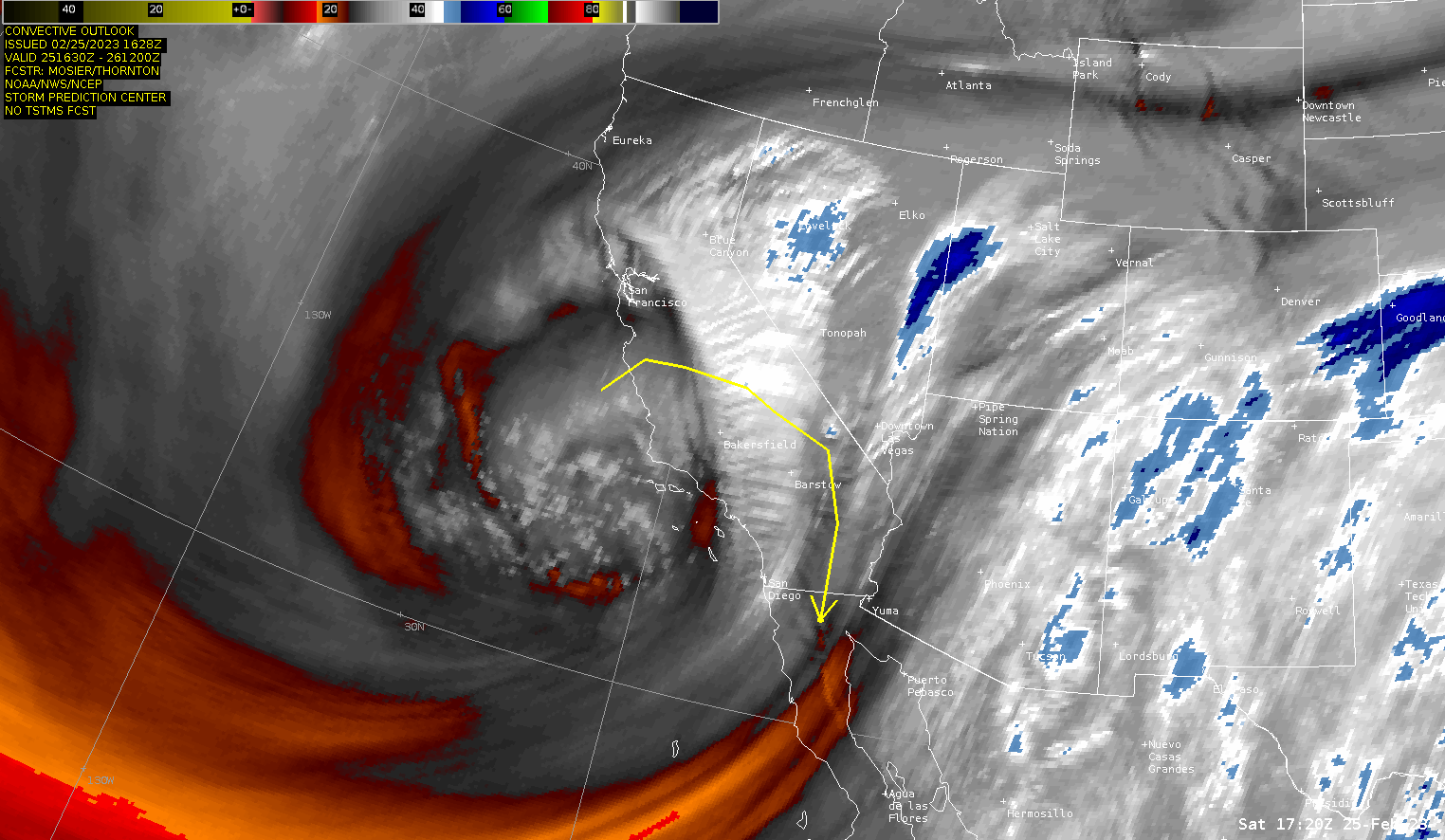 Heading out to Texas
Adam and I left Norman and headed west on I-44 to US-62 in Lawton and westbound. We were in a caravan with JR Hehnly and decided to stop off in Altus for lunch before heading further west. We would eventually end up at the Love's in Memphis waiting on storms to get going.
While we were at the gas station, Reed showed up and a crazy circus of followers seemed to gravitate there about the same time. Place was packed until he took off, then turned back into a ghost town.
Storm Initiation
Eventually we drifted north towards Hedly as the better updrafts were nearing I-40. The best chance of something isolated was going to be near McLean, so we continued north on FM273.
We would continue north of FM273, seeing this occlusion and wall cloud just south of FM2473. The storms were congealing fast, and moving in a hurry. Eventually I ended back at I-40 heading east. We wouldn't stop until we got back to Norman, just staying ahead of the line of storms. The winds ahead of the line were quite strong. Semi trucks were swaying, and I began to punch it around semi's to not hang out in the danger zone very long.
As I came into the Oklahoma City area, there was a tornado going through Hobart. More tornadic cells were just so my southwest. With the darkness from nightfall as well as the fast moving nature of the storms, we decided not to try and intercept.
Returning home in Norman
Adam and I arrived back to my house just ahead of the storm. I suggested he might want to stay instead of trying to drive across town in the incoming storm. So we did the Oklahoma thing and watched from my garage. An EF-2 tornado would touch down approximately 2-3 miles to the south of my house and moved off into southeast Norman.
Note the increase in shear from 00Z to 03Z (6 to 9pm CST) soundings. As the upper level trough as well as the line of storms approached Oklahoma City, we saw a double of the low level shear values. The thermals still show a strong capping inversion, but that did not matter. Here is the Meteogram from the Norman mesonet station.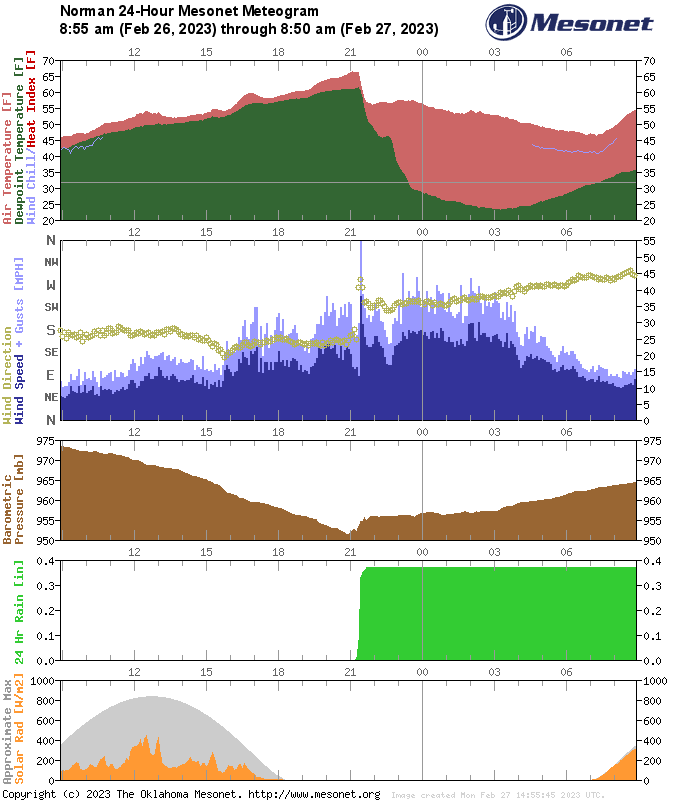 Links