Storm Chase Details
Chase Date:
March 2, 2023
Miles Logged:
404
States Chased:
OK
Severe Risks:
SPC Outlooks
Chase Recap:
With storms somewhat close to home, I decided to bite along the Red River in southeast Oklahoma.
Forecast
A moderate risk/10% hatched tornado day in east Texas and southeast Oklahoma. With the moisture moving up along the Red River, and the fact Adam and I were able to leave early from work, we decided to try our hand.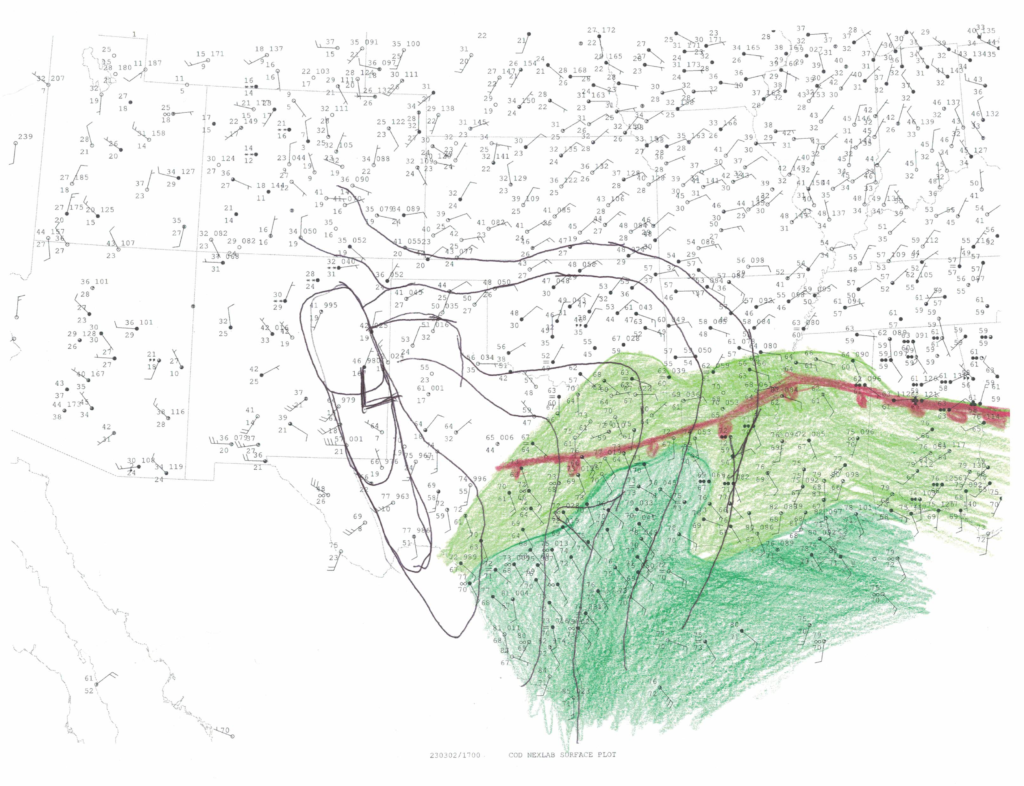 We headed out of Norman down I-35 to SH-7 east to Sulphur. From there, I dropped south towards Tishomingo. We were approaching storms that had formed on the north end of the moisture along a not-very-compact warm front.
As we passed through Tishomingo and east, the storm we were on went tornado warned. At this point we were just behind the storm near Caddo. Storm motions were pretty fast to the east, so we continued east on US70.
Hail in Hugo
Fuel was running low, so we needed to make a pit stop in Hugo. We got to a gas pump and started filling up as hail fell. Hail stones were approximately 1 inch in diameter at that time.
After filling up, we continued east through Hugo and back onto US70. As I was driving, Adam was able to capture footage from the the wall cloud immediately to our north between Fort Towson and Valliant. We witnessed a brief funnel near Valliant, but the road network made it impossible to keep up. As it was nearing sundown, we started back towards Norman.