Storm Chase Details
Chase Date:
June 17, 2023
Miles Logged:
579
States Chased:
OK, TX
Severe Risks:
SPC Outlooks
Chase Recap:
A casual Saturday afternoon chase in the Texas Panhandle with some structure. The storm to the north on the boundary every other chaser was on failed to produce so it was not a bust.
Forecast
I ended heading I-40 west to US281 northwest. I'd head towards Watonga and then arrive in Seiling before continuing to the west. My usual brontosaurus was standing guard atop his hill south of Canadian as I headed southwest.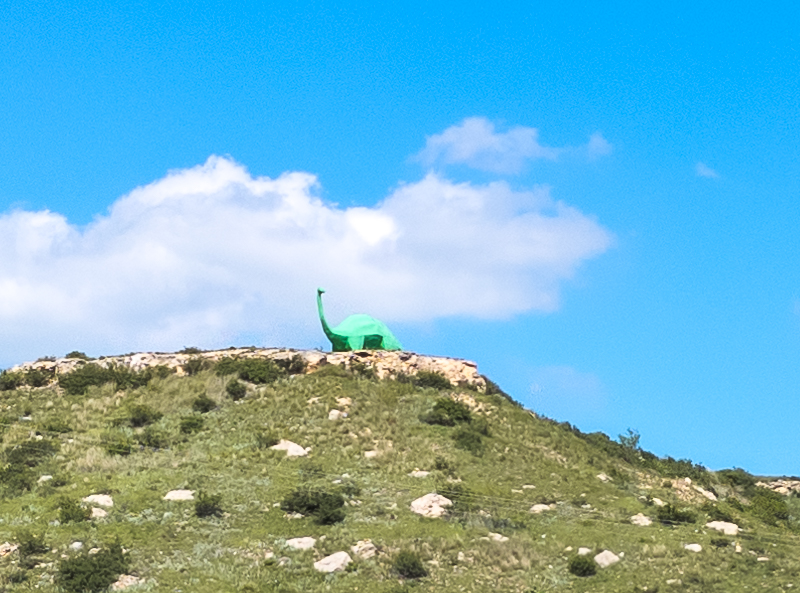 I was on this storm early, targeting it as it looked to be a lone concentrated area of agitated cumulus. I expected that the storm would intensify and remain isolated, and that seemed to be the case. I spent time observing the early stages of this storm just northeast of Pampa Texas.
I followed along on FM282 as it meandered north and east, even opting to head north on FM2699 to FM283 northwest of Miami.
Storm between Miami and Canadian
I stopped for a moment and took some photos and a time lapse between Miami and Canadian as this little guy petered along. It seemed to be having a lot of capping issues as it drifted to the east. Most chasers were up in the Oklahoma Panhandle, so traffic was minimal on this storm. Luckily, the panhandle storm didn't produce a monster. It was just a tease. I'd guess some capping issues there as well.
Welcome to Oklahoma/Welcome to Texas Signs
Knew I was a couple miles from the border, so I thought I'd try my hand at getting some storm themed state signs. Welcome to Texas and Welcome to Oklahoma signs in front of the storm.
Roger Mills County
The storm continued to evaporate as it crossed into Oklahoma. I knew the scenic Roger Mills drive of 1730N road might provide a decent foreground. Sadly, the storm clouded over and evaporated.
Headed back to OKC for Buffalo Wild Wings where I met up with JR.