Storm Chase Details
Chase Date:
April 12, 2022
Miles Logged:
717
States Chased:
TX
Tornadoes Witnessed:
1
Largest Hail Encountered:
2.25"
Highest Wind Encountered:
70MPH
Milestones:
Farthest south I've seen a tornado
Severe Risks:
SPC Outlooks
Chase Recap:
What a roller coaster ride the 12th became. From a classic plains tornado outbreak to cap bust to chasing in Central Texas. And to top it off, I'd see a tornado while on a road named Twister Rd next to a town named Cyclone.
Forecast
The 12th was a day of interest out 10 days. The GFS continually showed a very favorable tornado pattern, with a strong low up in Nebraska and a dryline extending down to the Mexican border. The dream leading up was supercells from Nebraska to Texas. Reality hit a little different.
One real target had appeared, and it was up by Iowa/Nebraska. Further south, the dryline seemed unlikely to fire except for in Texas where the sub tropical jet was making its way across southern and central Texas. After chasing Monday Night, I returned home and contemplating sitting Tuesday out.
Morning Forecast
I slept in Tuesday morning and had no sense of urgency. Eventually I did a forecast and realized there was a wave coming in over Mexico. It was very evident in water vapor. Moisture had most definitely arrived, evident in the 12Z Fort Worth sounding. Lapse rates were steep, over 8 C/km.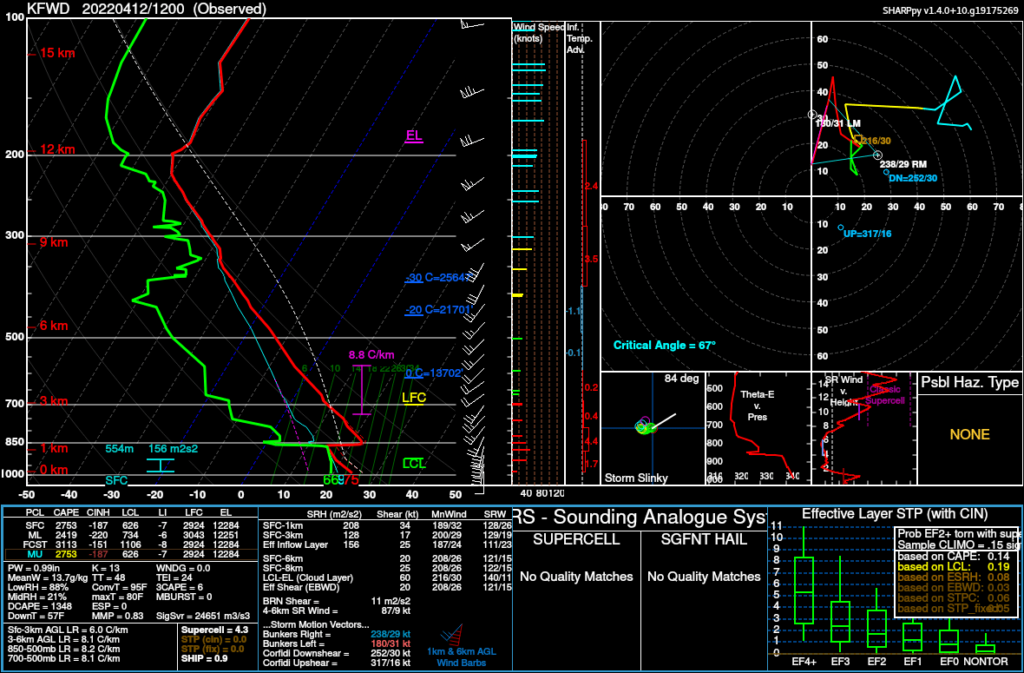 It became evident I would need to get to Waco and that I was probably already late. After a quick shower, I was on the road leaving Norman around 1.
DFW Metroplex
I decided to try and avoid the DFW metroplex by heading down FM51 from Gainesville to Decatur and down to Weatherford. I got stuck in a line of cars behind a semi truck carrying a substation transformer. Eventually I was able to pass. Unfortunately, a wrong turn in Decatur put me behind the semi again.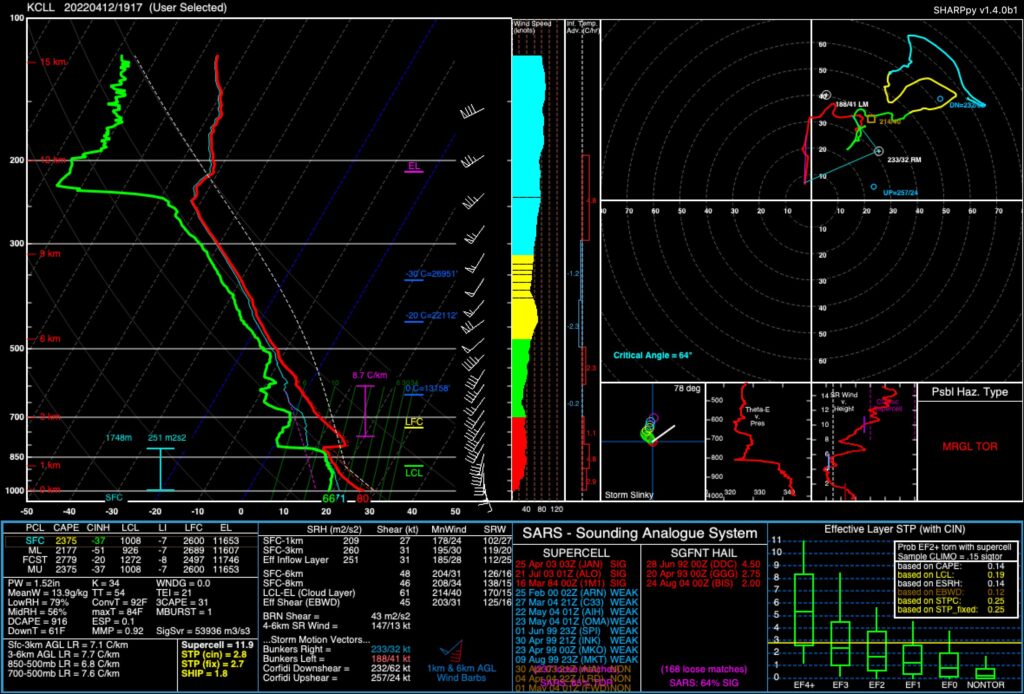 Weatherford was a whole other beast. Traffic seemed to move, and I got to the court house and around it. Suddenly, I came to a stop and spent the next 20 minutes in bumper to bumper traffic in Weatherford. Once I cleared I-20 (Rule of 20 applies here), traffic sped up a bit. I took 171 to Cleburne and then 67 over to I-35W. All said, it's hard to tell if I made it around DFW faster or slower than if I had just gone through downtown Fort Worth.
22Z Mesoanalysis
As the storms were really getting going, I grabbed a few images off the 22Z mesoanalysis as well as the KGRK VWP hodograph.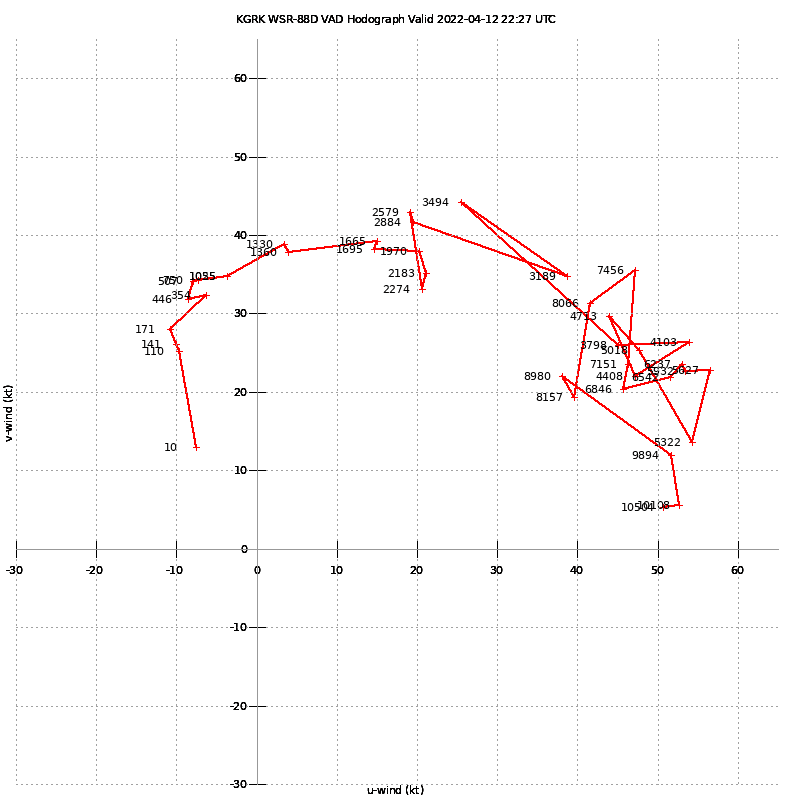 Arrival on the storm
As I arrived into Temple, I filled up my tank and then got onto the storm south of town. It had a wonderful wall cloud.
The wall cloud became very ragged and the storm seemed to gust out. It was enduring a merger from a storm to it's south. This would go on for the next 20 minutes as I headed east.
Cyclone Texas Tornado
As I passed Seaton and Zabcikville, I paused and looked back at the storm. It had formed a couple bases and was even showing a hook feature on radar. I dropped back to FM437 snd dropped south. Turning around and looking north, I saw a well defined wall cloud with a beautiful RFD cutout.
I headed back north and ended up pulling off on a side road which happened to be called TWISTER RD. It was at that time it was obvious the wall cloud was down, with a vortex on the ground just west of me.
Cyclone Texas Tornado Video
Getting Cored
After the tornado, I continued east and north. The road network was pretty fine until I got to US77. I found myself a route across to Baileyville. Unfortunately the storm had made a hard right. Some delays on the dirt road and next thing I knew I was being overtaken.
Hail to the eye
As I was navigating these roads, it started pouring rain. I went from no rain to no visibility in less than a minute. I put the passenger side window down to make sure i was turning onto the east option road which would get me out of this mess. Next thing I knew, it felt like I was being punched in the face. A hail stone had come into my car and smacked me square on my right eye.
I was completely unable to see momentarily. The hail got bigger and I had to take the coring. As I tried to exit where I was, I was trapped in by downed trees. I ended up having to back track.
Day over. I headed to Ruston, Louisiana where I setup for Wednesday the 13th.
Links