Storm Chase Details
Chase Date:
April 11, 2022
Miles Logged:
464
States Chased:
OK
Highest Wind Encountered:
45MPH
Severe Risks:
SPC Outlooks
Chase Recap:
The first of multiple days of chasing. Monday the 11th had capping issues on most model runs leading up to the event, but still offered a hope of chasing. Before leaving work on Friday, I took Monday and Tuesday off.
Forecast
This was day 1, possibly day 2 of a multi day severe weather event which was evident almost 10 days out. This day looked to have capping issues leading up to it, but with a dryline and 65 degree dewpoints in Oklahoma in April, I had to chase.
Ultimately I was expecting to chase south of the red river in North Texas near or east of Dallas. Much to my surprise, the NAM started hinting at further north placement of the warm front. This means I'd be in Oklahoma. I already took the day off work, so I'd chase.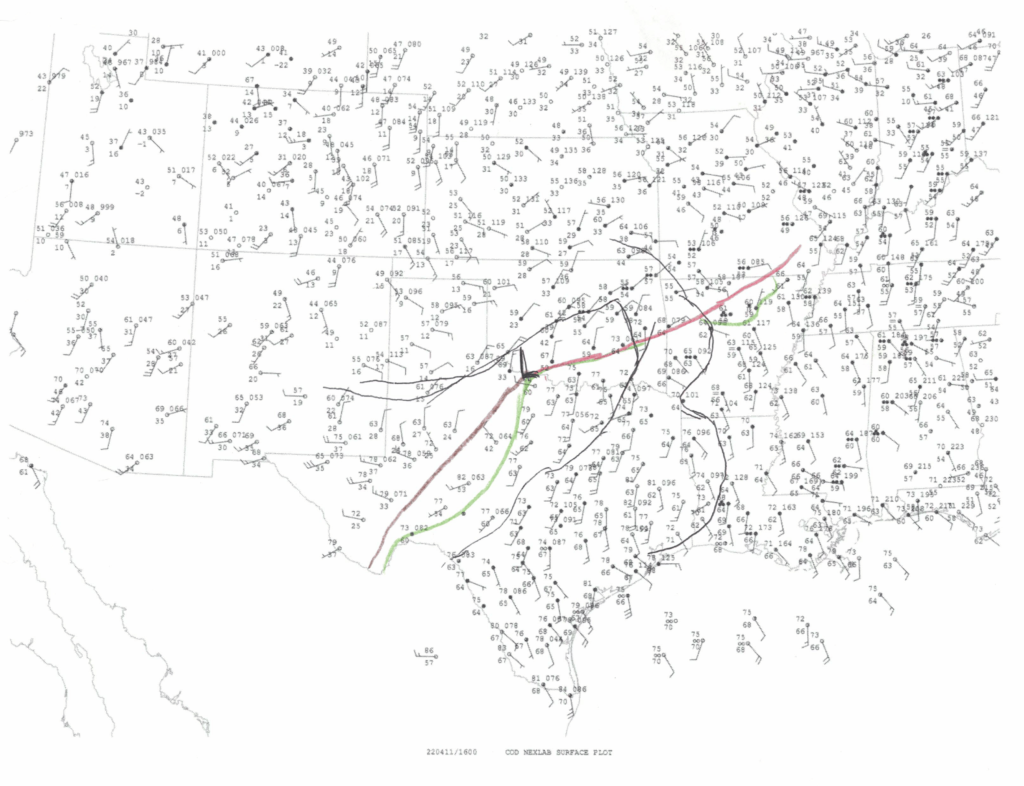 Heading Out
I hit the road shortly after lunch with an initial target of Ada. The idea in my head was Atoka, but perhaps that was more wish and hope than a real forecast. The dryline was further west than expected, but visible satellite told another story.
A couple of hours later I was sitting in Antlers watching a storm become tornado warned with tornado reports coming in near Fort Smith. I assumed I had busted, but as luck would have it, a storm would fire to my northwest. I had positioned so that I could get north on US271 towards Clayton, which is where I had to head. The warm front was sitting just north of me, and a storm started firing. This would end up being the storm I spent the rest of the evening on.
Approaching the storm
As I was heading north on US271 and then SH-2 I came across Sardis Lake which gave a beautiful viewpoint of the storm. The base was visible, but would pop behind the mountains a couple of times.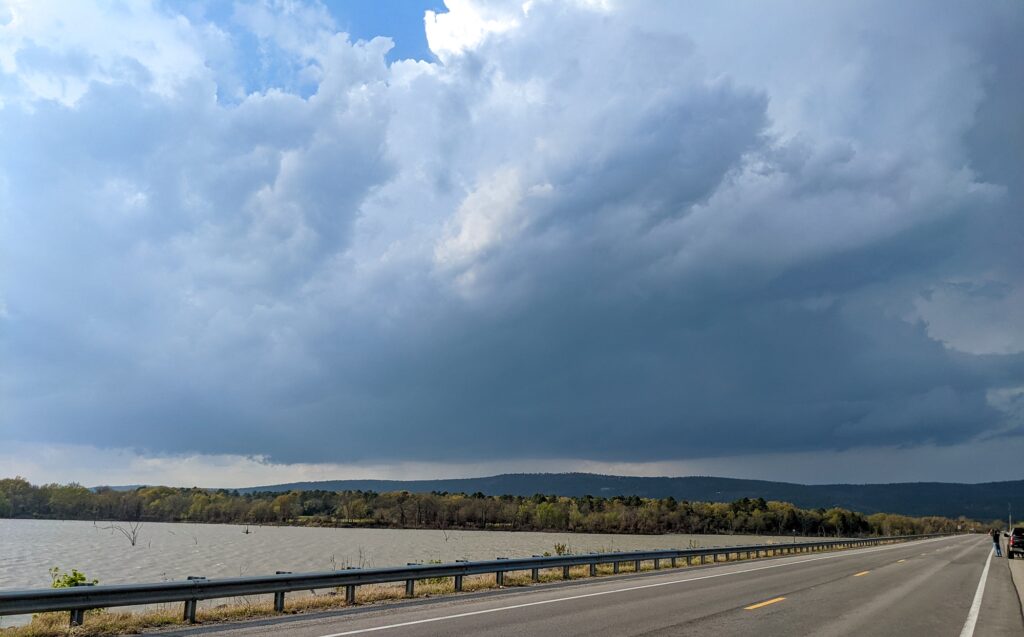 Talihina
I repositioned way east ahead of the storm, and was able to find a vantage point in the town of Talihina. The storm formed a beautiful wall cloud and I ran into Pecos Hank.
Talimena National Scenic Highway
After the stop in Talihina, I was on my way to the Talimena National Scenic Highway. I've been on here a few times before. It's a beautiful place that has the best sunsets. Seeing a storm from up here was definitely going to be special.
I seemed to be the first one up top, sitting at the first north facing turnout alone for awhile. The storm was still off to the west too far to observe well. Slowly it moved into view.
I moved a couple of times to the next north looking turnouts. Eventually it became dark enough for me to call it a night and start heading home.
Tornado Warning
As I'm nearing Atoka, I ended up in the core of another supercell. Luckily, the hail was small. They issued a tornado warning as I came out onto the back side. It was super dark and I wasn't ready to try and chase night tornadoes in the jungle, so I headed home.