Storm Chase Details
Chase Date:
May 18, 2017
Miles Logged:
492
States Chased:
OK
Tornadoes Witnessed:
4
Severe Risks:
SPC Outlooks
Chase Recap:
Morning
I started this morning out after waking up around 645am. The first thing I saw on my phone that morning was that Chris Cornell had passed away. The second thing I saw was a High Risk in Northwest Oklahoma.
With a downer like the Chris Cornell news, I couldn't be excited over the high risk.
Forecast
Northwest Oklahoma was on my radar, probably a slight location bias. The day seemed messy and the further south I could be, the better chance we'd have less messy storm modes. I ended up focusing right around the triple point and south.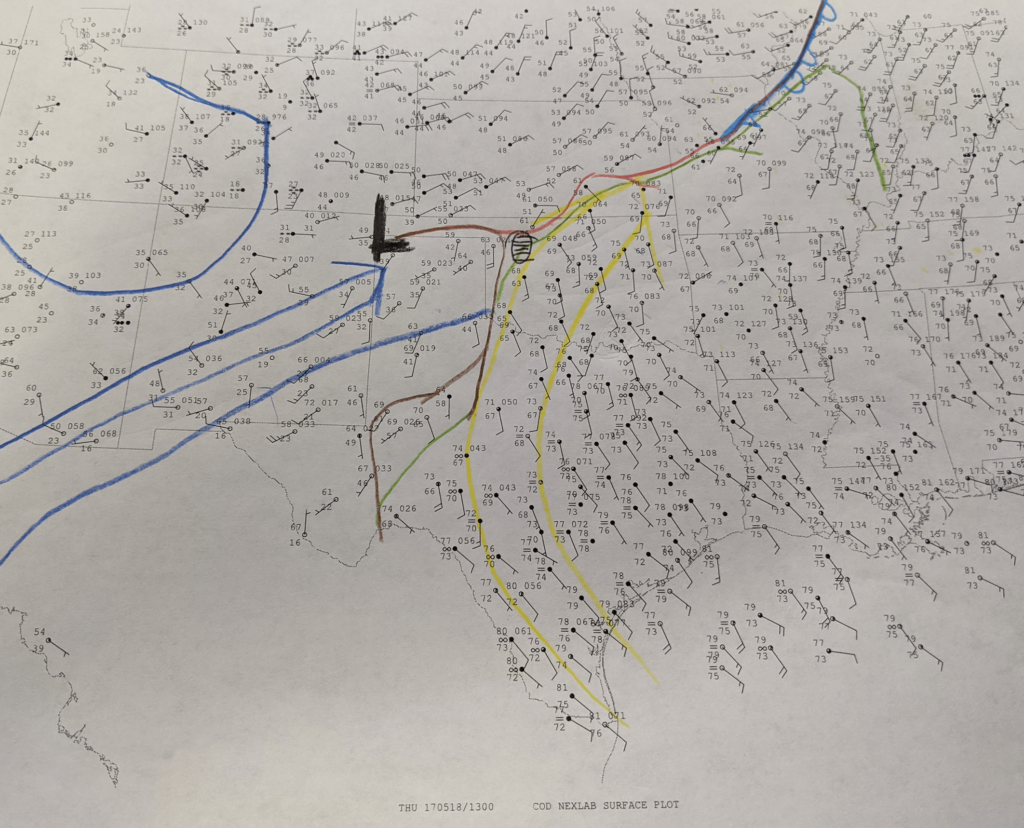 Leaving to Chase
We loaded up in the Explorer and headed northwest. My first stop was at the gas station in Watonga, where other chasers had gathered. I decided that we probably needed to go further north, perhaps Fairview.
I decided to head to Fairview and go to the Loves with the Subway for lunch. I pull in and of course Mike Scantlin is there waiting on Tom to pick him up. We get food and hang out for a bit then head out to chase the storms coming up from the south near Roll.
First Storm
We piddled around on the first storm from near Arnett to between Woodward and Fort Supply. It never seemed to actually organize well with fast cycles. I would have stuck with that storm, but we ran out of roads. This required me to backtrack to Woodward.
New storm
The storm coming from the south caught my eye, so south out of Woodward we went, dropping the first storm we were on. The new target was a newly tornado warned storm to our south.
Seiling Tornado
As we neared the new travel stop just outside of Seiling, we observed a tornado to our south. It was extremely brief, but we started heading north across 270 then east towards US281. The only river crossing was highway 281, which was quite a bit east of the tornado.
It bears mentioning that the northerly storm motion seemed to be a little off from the other storms that day. For me, it made things hard. I made a poor decision to go west on the dirt roads to get closer.
Chester Tornado
The Chester Tornado finally planted 2-3 miles west of us, heading north. It quickly widened out to a wedge momentarily before remaining a big fat cone.
We continued with the tornado north some more on the dirt roads before running into Mike Marz. You could tell he was euphoric watching the tornado churn to the north.
We turned around and headed north some more before finally returning east to the paved option. Once on US281 again, it was a cirus of people with lightbars hanging out into the lane.
Waynoka Tornado
The tornado roped out as the storm approached US-412. We parked at the intersection of 281 and 412 and observed the next storm cycle. The storm seemed to slow way down in forward momentum while it spun like a top over the highway.
We headed a bit further north 2-3 miles before stopping and setting up tripods in a big driveway. The storm gave us an amazing show of a slow moving photogenic tornado over open grasslands.
Waynoka and Beyond
After the last tornado dissipated near Little Sahara State Park, the storm remained highly organized visually. We continued on through Waynoka and finally east a bit. Flooding was bad in Waynoka.
As we neared Avard on the back roads, the storm made one more valiant effort at organization. The storm collapsed out and looked like garbage a few more miles near Alva, which is where I called the chase.
We headed back to Norman that night, feeling victorious.
Links