Storm Chase Details
Chase Date:
April 29, 2022
Miles Logged:
395
States Chased:
KS
Tornadoes Witnessed:
1
Severe Risks:
SPC Outlooks
Chase Recap:
I was pretty sure I had busted at 730pm and by 8:11 I was watching the Andover KS Tornado.
Forecast
Tough forecast. The entire dryline was primed, and any breach of the cap would result in a monster. Loaded gun soundings all over the dryline. I couldn't ignore the fact that Oklahoma looked primed, but so did southern Kansas. Dick McGowan sent the 300mb chart from the 03z RAP, which was all I really needed to see.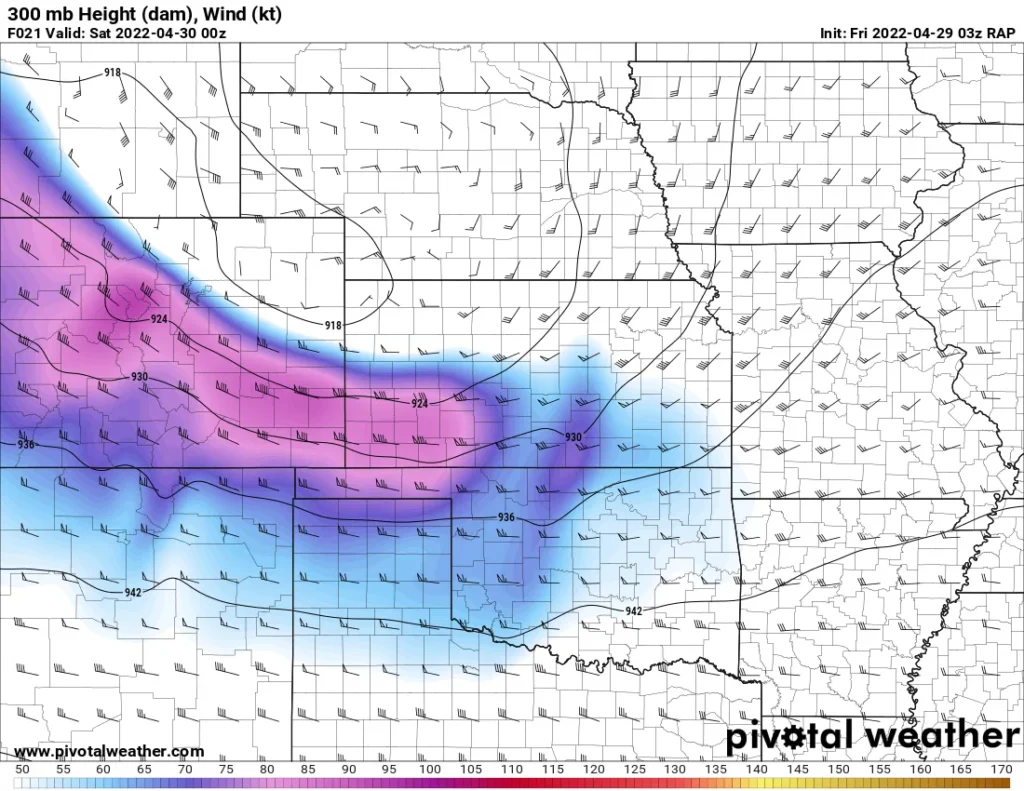 Of course, I'd still want to consider staying in Oklahoma. A big day could happen near home, and I'd hate to miss it.
12z Soundings
Morning Hand Analysis
Of biggest note of the morning hand analysis was the outflow boundary analyzed near Hutchinson. This would likely provide some localized SRH for the storm to work with later.
12z NAM Output
9hour
12 hour
Departure
I left Norman around 1 and headed north. I knew I'd have some time before storm development due to capping. The NAM and RAP were both showing a later show, with that 300mb jet not punching into the Wichita area until almost 8pm.
I headed to Blackwell and filled up with gas and met up with JR Hehnly. We sat in the parking lot at Braums for awhile before finally moving more north towards the storms that had gone up. I was sticking by my rule of not going north of Wichita for any reason.
Sitting in Wellington
JR and I went to the Wellington exit on the Kansas Turnpike, then decided to get off the highway and hang tight. We parked in the commuter lot next to the tollbooths and had a great view off to the west. We'd sit for a number of hours. I contemplated dropping south, as storms had fired west and southwest of Oklahoma City. I watched the storms on the meso sector 1 minute refresh satellite feed and noticed that all the storms in Oklahoma seemed to be struggling. There was a growing divide between I-40 south to Lawton and where the next cumulus clouds were, which were just to our west and southwest.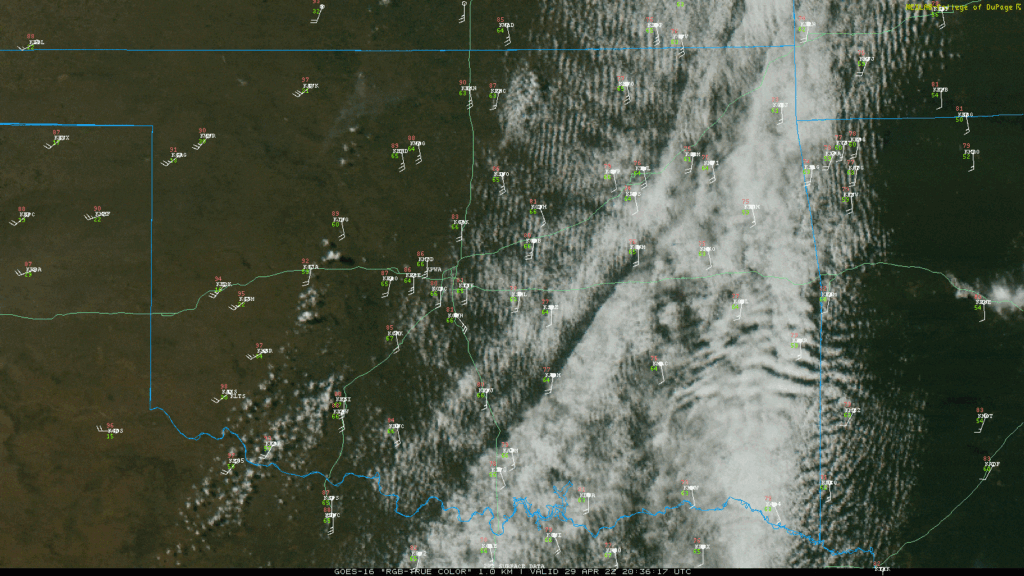 Storms up north continued to do their thing, and a tornado was reported. Bill sent me a picture of a nice little funnel they had gotten. Pressure was increasing as the storms up there are starting to possibly produce and I'm sitting here watching attempt after attempt fail to break through the cap.
Another chaser joined us at some point. I hadn't ever met him before, but eventually we started talking. It was Brian Press, who would also manage to get some good video of the Andover KS Tornado. Talking to him took my mind off the stuff to the south in Oklahoma, and the next time I'd glance at radar and satellite I'd notice that pretty much everything in Oklahoma was dying off.
Storms to our West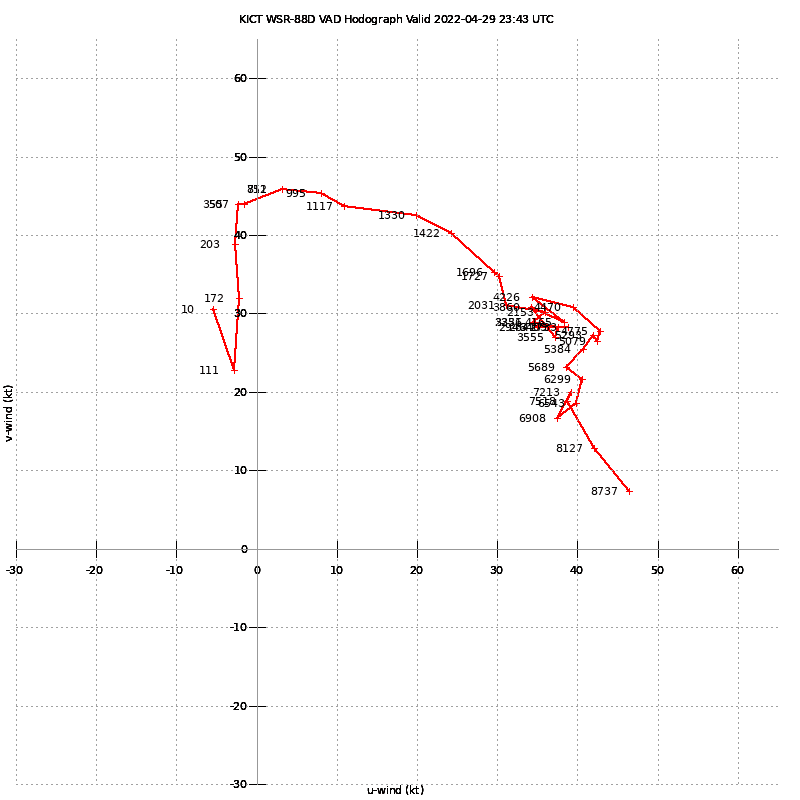 Finally a little bit before 7 pm, we decided to really go after the most persistent updraft to our west. We took a quick trip north on I-35 to the Mulvane exit with the Casino. I proceeded to find a spot just west of US-81 to sit and watch the storms. They were not moving very fast, but we had multiple updrafts competing with one a little stronger than the others. JR and I observed multiple small funnels, elevated up on the outside of the meso.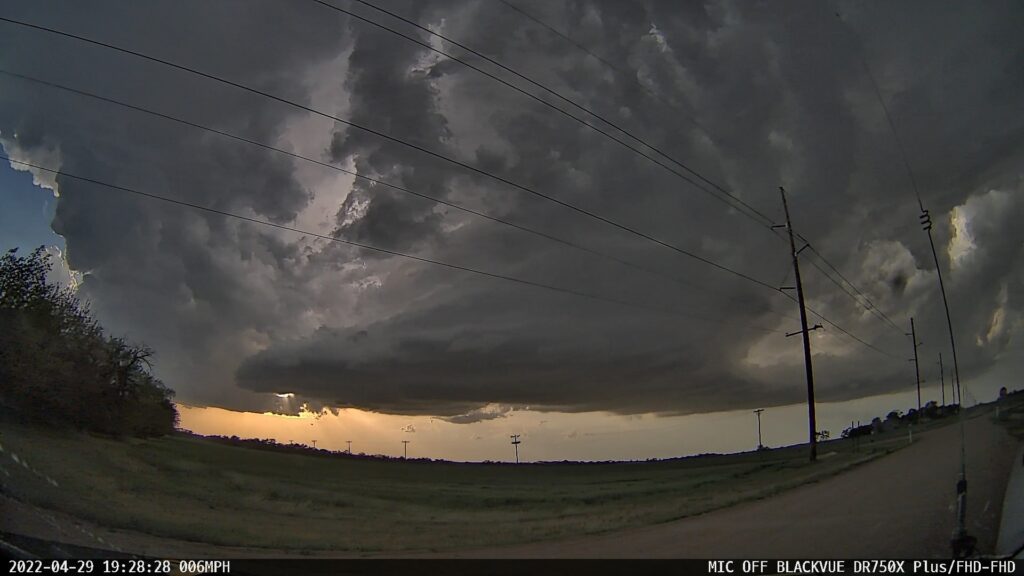 Funnel east of Andover
We continued with the same updrafts, eventually getting back on I-35 at the Derby exit. I drove up the turnpike to the Andover exit. The storms to the north and east were quite visible.
After what seemed like 16 turns, I was finally on US-400 in Andover headed east. The first viable pull off road out of the city seemed to be Indianola Rd at the Augusta airport. The view wasn't the greatest, but buildings and trees were plentiful in town.
At the airport, we'd observe a long-lived funnel on the closer updraft to us. Due to proximity to the radar, it was hard to tell which updraft was the most intense. Visually, the one to the southwest was obviously the best.
Andover KS Tornado
At 8:00 I was watching a funnel just to my northwest. In the shot below, you'll see that the updraft that'd go on to produce the tornado very well organized to the west.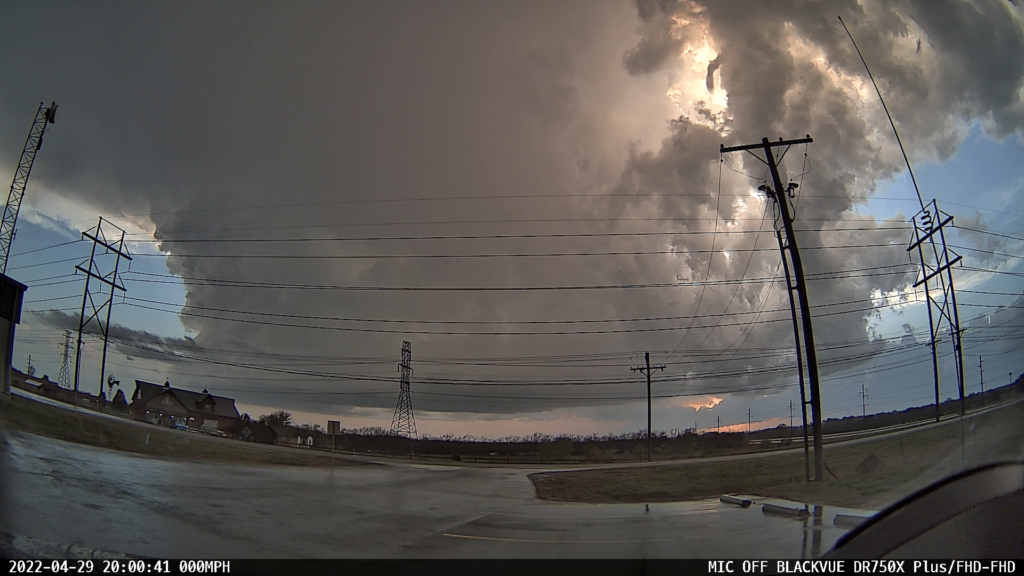 As the big bowl funnel appeared, I knew I'd have to get west as an epic tornado was about to drop.
I headed back west on US-400 to Yorktown and pulled in to make a left turn. After about a minute, and looking at the map, I decided to continue through the green light in the traffic lanes and go down to Andover road. Again, I'd wait for a red light while the tornado touched down. The time was 8:11
Once the light turned green, I headed south on Andover Rd. I found a road to pull off onto just south of Harry Street. At first reaction I thought I might be in the path of the tornado. I decided to get a little further south on Andover Road.
I carefully followed up behind the tornado, staying back from the main debris field. The awesome display of power as the tornado crossed the road right in front of me is something I will never forget. You can hear me talking to myself in my video, as I was in shock.
Checking Houses
I drove past an overturned 5th wheel travel trailer. At first I thought it was a semi truck, but quickly realized it was a travel trailer. I got out to check on houses, but power lines were down on the east side of the road. In retrospect, I could have walked down and road the power lines but I was in shock at what I had just witnessed. I checked on the house on the west side of the road and everyone was OK. The Fire Department and Police showed up within 2 minutes of tornado passage, so I got out of their way. I was able to catch a far away view of the tornado as it roped.
I pulled over on a dirt road northeast of Kansas after ropeout and took a few minutes to gather my thoughts.
Full Video
Links