Storm Chase Details
Chase Date:
May 2, 2022
Chase Partners:
Zack Cooper
Chasers Encountered:
JR Hehnly
Miles Logged:
399
States Chased:
OK
Largest Hail Encountered:
1.25"
Severe Risks:
SPC Outlooks
Chase Recap:
A moderate risk bust in Oklahoma again. I had some high hopes, with the forecast seemingly easy. Could this finally be the day the dryline in Oklahoma lit up and produced one or more intense tornadic supercells?
Forecast
As with many of the other days this season, I took Monday off to chase. The forecast seemed like a simple, classic tornado day off the dryline in Oklahoma with a very amplified shortwave trough pushing through.
The forecast seemed to be 'Head north to Enid and watch trends', which is what we did. Storms fired about when expected, so we didn't do much sitting around. Mid to upper 60s dewpoints were pretty prevalant across the warm sector. I analyzed a tongue of 70 degree dewpoints near Dallas on the morning hand analysis I made.
Mammatus and Lightning Photos
As we returned to Norman, we were presented with an insane display of mammatus. I stopped off at the Weather Center and parking garage on campus to get some photos of both the mammatus and the anvil crawlers on the backside of the MCS.
00z Norman Sounding
Quite the impressive sounding out of Norman at 00z May 3. Oklahoma is lucky that the cold front advanced faster than anticipated and killed the supercells more or less.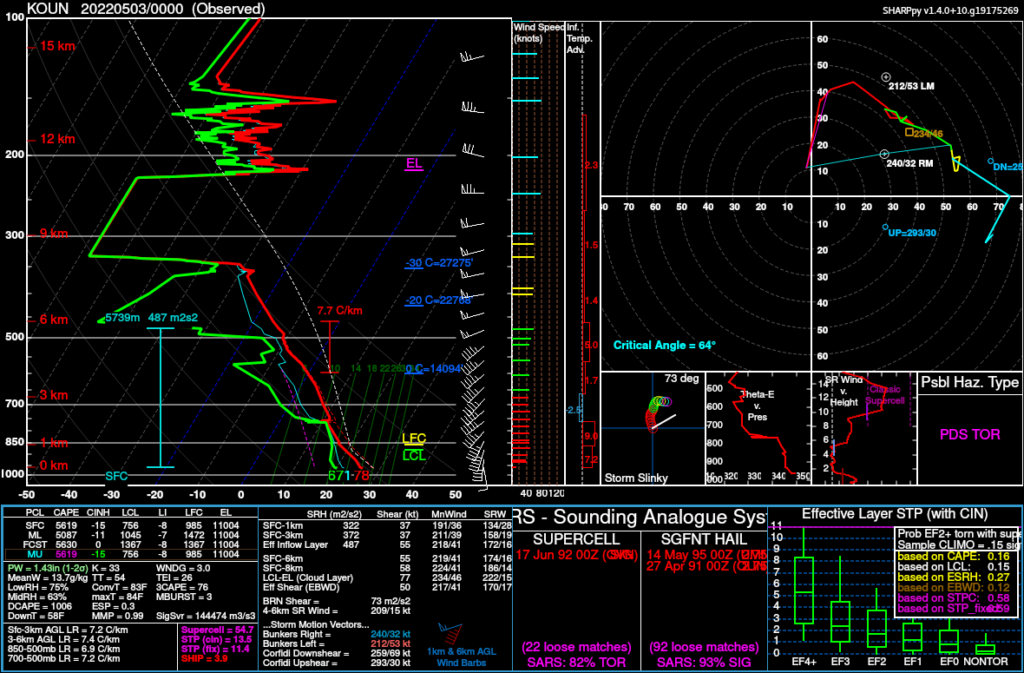 As the storms moved away, I dropped Zack off and went home.