Storm Chase Details
Chase Date:
May 30, 2022
Miles Logged:
648
States Chased:
NE, KS
Severe Risks:
SPC Outlooks
Chase Recap:
This would be one of the bigger SPC and chase busts in recent memory. The signs of a strong system ejecting into the northern plains had been obvious for multiple days. I ended up biting on the setup, driving to South Dakota before chasing supercells in Southern Kansas.
Forecast
I went back and forth on making the trip during the week leading up to this. It was memorial day weekend and climatology was on my side. There was a lot of question marks on this setup, including shear vectors, veer backing, and a lot of forcing. I kind of expected a Derecho like on May 12th, but with the parameter space we were looking at, as well as Memorial day weekend meant I decided to pull the trigger. The expectations I had for the 29th was low, but the 30th seemed like a tornado outbreak in Western Iowa and Eastern Nebraska.
With Squatch needing a tornado to salvage his terrible choice of chase week, we decided to depart northward on Saturday. We'd chase Sunday and stay in Sioux City Sunday night. With the 15% hatched tornado threat just to our north for Monday, we'd wake up in a good position to chase.
Morning Mess
We woke up in Sioux City to a mess. The SPC delineated a 15% hatched tornado risk in West Central Minnesota. I wasn't buying it. Shear vectors were not ideal, and early development of a line in Nebraska was also not ideal. Watching visible satellite was not encouraging, and it became clear to me that Minnesota would probably bust by 11am. After sticking around Sioux City for a short period of time, we started heading south on I-29.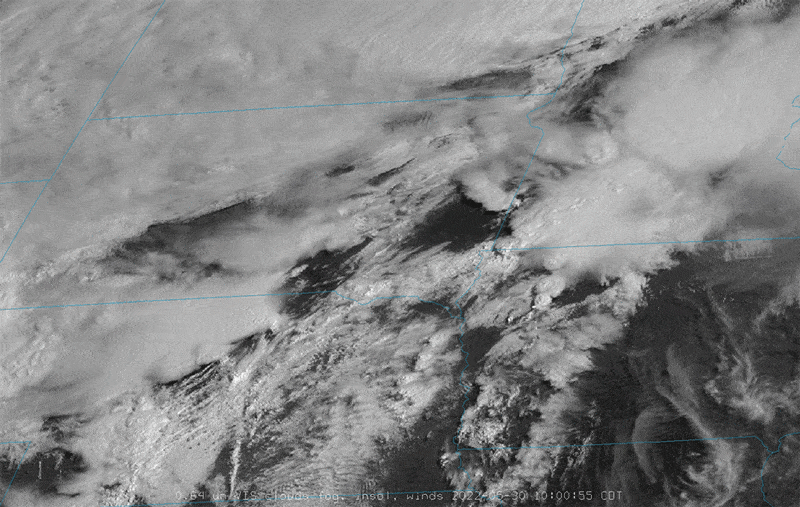 Kansas Supercells?
Models seemed to continue to show storm development all the way down the cold front into central Kansas. This would be our target, as the prospects up in MN/SD/ND were not very high. We'd also get home Monday instead of having to stay out another night.
I headed southbound towards home, with a couple short stops on the way. We first encountered storms near Emporia and went west to Strong City to get a closer look. They were outflow dominant with a nice shelf feature. These were not the supercells we were looking for.
Supercell south of Wichita
One storm seemed to remained isolated and crossed I-35 near Mulvane. This would ultimately be the storm we ended up on after we dropped off the Strong City storm. The VWP from Wichita was not too bad, but no tornadoes.
Unfortunately or Fortunately, it would do nothing more than water some lawns.